Roger Federer 5 Years On
William Skidelsky
---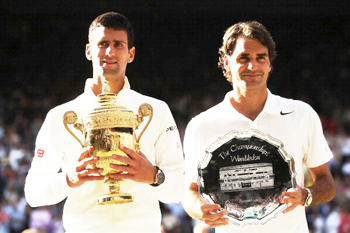 In 2014, having paid a tout a small fortune for the privilege, I went to my first ever Wimbledon men's final. Over nearly four hours, I watched my idol, Roger Federer, do his best to defeat Novak Djokovic. He came reasonably close, saving a match point in the fourth set before levelling up at two sets all.
For a while, many of us thought we were watching a miracle unfold. But then Djokovic suddenly reverted to full on lock down mode, and ran out a comfortable winner in the final set.
The match features prominently in my 2015 memoir, Federer and Me: a Story of Obsession. (Click Here.) The book opens with my desperate last-minute attempts to buy a ticket, and ends with me and a group of fellow Federer fans lamenting our hero's defeat.
It struck me as a logical framing device, not just because it was a Wimbledon final (and I was there!), but also because it felt like a swan song: I seriously doubted Federer would have a realistic chance of winning a Grand Slam again.
Want to study the rest of this article?
Click Here
to Subscribe!