My Federer Obsession
William Skidelsky
---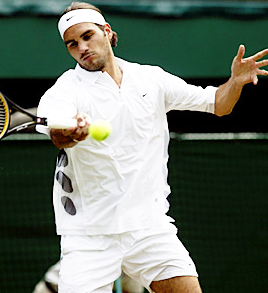 I first saw Roger Federer play in 2003. At Wimbledon on Centre Court. It wasn't love at first sight.
During the first week of the tournament, I received a call from a friend. He had a spare ticket for the next day. Would I like to go? Although I wasn't a big tennis fan back then, it was an offer I felt I couldn't refuse.
The only problem was practical. How to get out of work? I'd recently started a job as junior books editor on a weekly current affairs magazine, and the day in question--a Thursday--was our deadline. Moreover, my boss was away, leaving me, for the first time, in sole charge of our section.
After giving the matter some thought, I decided that a course of brazenness would be best. I would simply leave--as if heading out for an important meeting. The next day, at noon, I sidled out of our offices, took a Tube to Waterloo, and, from there, caught a train to southwest London. Predictably, my plan was foiled, in the sense that my absence was noticed, and resulted in a ticking off. But I've never had any regrets.
It was one of those indecisive early summer days when both sun and rain seem equally plausible. When I got to the All England Club, the first match of the afternoon was already in progress. It was between the fourth seed, Roger Federer, and a left-handed Austrian called Stefan Koubek.
Want to study the rest of this article?
Click Here
to Subscribe!