Rafa's Racket
A.J. Chabria
---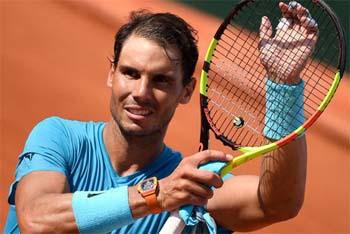 We all know that the pros play with frames that are different than the consumer versions. Let's take a look at the real story of the frame of one of the most accomplished players in tennis history -- Rafael Nadal.
Then let's talk about his strings and what it's like to actually string for Rafa from the viewpoint of Joshua Newton, an old friend who led the Babolat stringing team at the 2018 French Open.
Rafa won Roland Garros this year using a Babolat Pure Aero La Decima French Open. But it was a customized, special frame. So what were the modifications? What makes it so quick, so stable, and so lethal?
The Babolat spec sheet says frame weighs 317 grams unstrung, or 11.3 ounces. That's light—very light—a good weight for club players but too light for a pro.
Want to study the rest of this article?
Click Here
to Subscribe!