A Little Boy or a Midget:
John McEnroe
---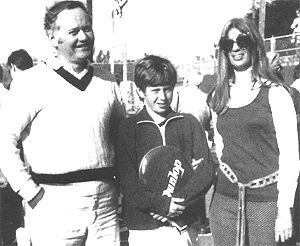 John with his parents, John Sr. and Kay in Douglaston.
Like many athletes who weren't blessed with a large frame and Olympian genes, John McEnroe describes his rise to the top of the tennis world as improbable. But it really wasn't. From the time he first picked up a racket, he had a few intangibles that would work in his favor - an unquenchable thirst to win, a frenetic competitiveness, and amazing hand-eye coordination.
John Patrick McEnroe Jr. was born on February 16,1959, at the American military base in Wiesbaden, Germany, where his father, John Patrick McEnroe Sr., often known as J.P. McEnroe, was stationed with the air force and his mother, Kay, worked as a surgical nurse.
After J.P's discharge in 1960, the family moved to Flushing, New York, and later settled in Douglaston, a middle-class section of Queens. There were two younger McEnroe brothers, Mark (born 1962) and Patrick (born 1966), the latter of whom became a fine tennis player himself. J.P. earned his law degree in night school, and was talkative, demanding, and full of life, with a loud joke or opinion always on hand.
Kay, a no-nonsense mother who describes herself as someone who likes "everything done yesterday," had a harder view of life and never trusted outsiders. "Unfortunately, I'm like her in that way," said her oldest son.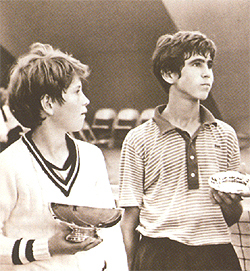 John with junior rival Larry Gottfried.
McEnroe described his Douglaston neighborhood as something out of Leave It to Beaver, where he and his friends would spend long summer nights playing stickball out on Rushmore Street - a fine way to improve the eye-hand coordination so necessary for tennis. But much as he loved to play sports, McEnroe wasn't physically blessed, and in his youth he was short and pudgy and had a target on his chest for the neighborhood bullies.
He was called a runt by older kids but continued to engage in every sport available to him. He never minded getting his nose bloodied or causing a few scrapes and bruises himself. Early on, he developed a Napoleon complex.
Kay quickly instilled a no-quit attitude in him. Once, after he fell off his bike and hurt his arm, she told him to grit his teeth and go play tennis. Three weeks later they discovered that McEnroe had actually broken his arm. "We were rookies at the parent job," his father said, "but we got better at it."
Nothing would stop the McEnroes from climbing up the social ladder, and they moved three different times while in Douglaston. "They fully bought into the American dream," John Jr. said. "But it was a restless dream, and a big part of it was where you lived."
---
| | |
| --- | --- |
| | In 1980 John McEnroe and Bjorn Borg played two of the greatest matches of all time in Wimbledon and the U.S. Open finals, both won by McEnroe, catalyzing Borg's disappearance from the game. In Epic, Matt Cronin, one the world's most respected tennis writers, and a regular Tennisplayer.net contributor, tells the stories of the two legendary careers that lead up those confrontations - as well as recounting the matches themselves. We're excerpting the start of both stories on Tennisplayer - the young Borg and the young McEnroe. Get Matt's book and read the rest! |
---
TennisReporters.net is the world's leading subscription based source of tennis commentary, opinions, and features from the world professional tour. At TennisReporters.net, founded by Matt Cronin, the world's best known tennis journalists give you the straight insight into what is really happening, and aren't afraid to describe the pros just the way they are.

Subscribe now and receive monthly newsletters, subscriber-only stories, and writers' blogs, from TR.net reporters as they travel the world with the best players in the game.
---
| | |
| --- | --- |
| | Matthew Cronin, founder of TennisReporters.net, is one of the most prolific and insightful journalists working in the sport of tennis. Matt has covered men's and women's pro tennis for the past fifteen years, traveling the world to develop his unique first hand perspective on every aspect of the game. Matt is a regular contributor to Reuters, has written extensively for the official Grand Slam web sites, and did play-by-play on the first web radio broadcast of the US Open finals. A former co-president of the International Tennis Writers Association, Cronin resides in Moraga, Calif., USA, with his wife, Patti, and their children, Cassandra, Connor and Chiara. |