The Three Service
Rhythms
By Doug Eng, EdD PhD
---
The service motion is arguably the tennis stroke with the greatest variety, and perhaps also the most analyzed. Debates on the ideal toss, how power is generated, and the use of the wrist have been hotly contested, and tennis coaches and players will probably never reach agreement on these issues.
In this new series of articles, however, I want to investigate a less well-known and less discussed aspect of the serve that is just as important or more important in developing a great serve. This is the rhythm of the motion.
I believe there are three distinct rhythm styles.
These are:
1. The Classic Rhythm
2. The Abbreviated Rhythm
3. The Staggered Rhythm
To comprehend what goes on in high level serving you have to understand rhythm styles and what they mean. And the same goes for building or improving your own service motion.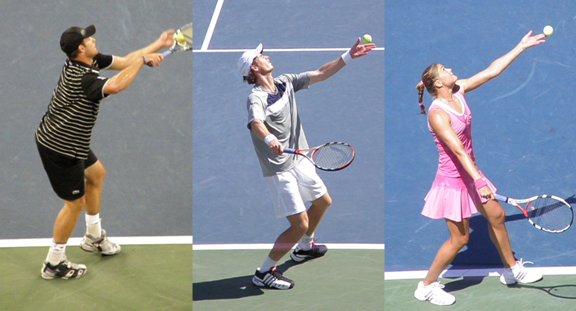 The Three Rhythms (left to right): Andy Roddick in the abbreviated rhythm, Andy Murray in the classic rhythm and finally Dinara Safina in the staggered rhythm.
Want to study the rest of this article and hundreds more?
Click Here
to Subscribe!