I've Got Your Back Part 1: How I Became Andre's Coach
Brad Gilbert
---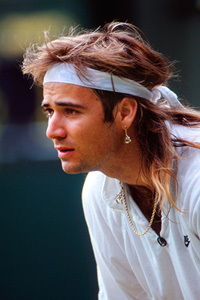 Thank God for Andre Agassi. He knew I wanted to be a coach before I did.
I didn't really know what I wanted to do. I certainly never planned to become a coach to two of the greatest players of our time. Agassi and then later Andy Roddick. ( More on Andy in upcoming articles).
After all, I'd made a few million dollars in prize money during my playing career. And a few million more from endorsements. I could've hung it up and walked away-raised my family, managed my investments, and done all right.
But in March of I994, my life turned one of those corners that life sometimes turns. I was playing at the Lipton Championships in Key Biscayne, Florida, just up the road from Miami. I was thirty-two years old, and I was still hitting a pretty decent ball, good enough to be ranked number 28 in the world.
Then, one afternoon when I went out to warm up for my match, I ran into Andre on the practice court. We knew each other pretty well from the tour, and even though he was almost ten years younger than me, we were fairly close buddies. I liked the guy. A lot of other players weren't crazy about his flamboyant style. The Wild Hair. (He used to have hair.) The ear rings.
Want to study the rest of this article?
Click Here
to Subscribe!