Tracking Data and Serve Strategy:
Part 1
Peter Tea
---
Andre Agassi discovered a unique tick about his rival, Boris Becker, which gifted Agassi with seemingly telepathic abilities. Agassi noticed Becker pointed his tongue in the same direction as his intended serve.
It was only in retirement – after this tick had already propelled Agassi to 8 straight victories against Becker – that Agassi finally revealed it. Becker was floored.
Anticipating your opponent's next move is a tactical advantage in any sport. Knowing what to expect in a competition can help settle your nerves and help you attack your opponents' vulnerabilities.
But with tennis played year-round in over 31 countries, on multiple court surfaces and against different opponents, gathering enough insight is a daunting challenge. For example, it's rare to face the same adversary more than a few times within a tennis season.
And the lack of head-to-head encounters makes it difficult to be tactically aware of all your opponent's tendencies. Luckily, ball-tracking data can fill in the gaps of our missing knowledge – and may even discover something as peculiar as the Becker tick.
We begin by knitting together the patterns of player serve tendencies with serve bounce heatmaps. For our study, we looked at data from the 2019 and 2020 Roland Garros tournaments. Let's examine some high-profile players.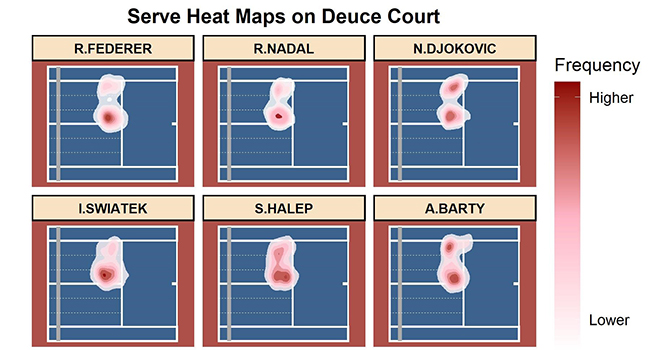 Want to study the rest of this article?
Click Here
to Subscribe!