The Federer and Alcaraz Dropshots Compared and Contrasted
Chris Lewit
---
Carlos Alcaraz has burst onto the pro scene and reached the highest levels of the game. His drop shot is superb and has been a major contributor to his recent success. We have never seen a player recently with such great creativity and skill on the drop shot—except perhaps Roger Federer.
Let's explore the drop shot of Alcaraz both technically and tactically and use the drop shot of Roger Federer for comparison and contrast.
The Forehand Grips
On the forehand wing, both Roger and Carlos, interestingly, have similar grip structures for their topspin strokes, closer to an eastern or composite eastern. In a personal interview, Antonio Cascales, founder and head of the JC Ferrero Equelite Academy where Alcaraz trains, says that Alcaraz has a conservative grip very close to Federer. That's important because it means that when Carlos attempts a drop shot he does not have to change his forehand grip much—if any—to facilitate the underspin shot.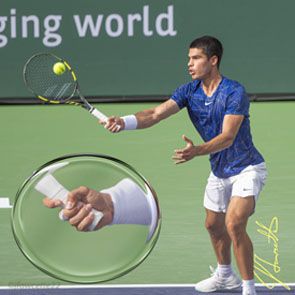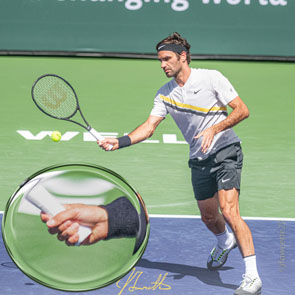 Carlos and Roger have similar grips for the forehand drop shot.
Want to study the rest of this article?
Click Here
to Subscribe!