---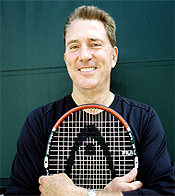 John Yandell
Editor
For the last 20 years, Tennisplayer photographer J. Gregory Swendsen has been my best friend in San Francisco. Together we have traveled all over the world filming and studying the top players, and I have watched as he created the incredible Tour Portraits series you see here.
In most newspapers and even tennis magazines, the still photography you see is depressingly similar--that tight shot of the player hitting a forehand at contact. Only the names and events change. The "stock shot" remains the same.
Greg's work is intentionally different. Rather than produce the money shot on a media deadline, Greg has had the freedom to create broad portraits of every dimension of the pro game. This includes the technical side. But he has also probed the emotional and psychological dimensions. The shots can be dramatic or quite subtle, painting a wide range of reactions to the twists, turns and pressures of the game played at the highest levels.
His classic portraits of Pete, Andre, Martina Hingis and John McEnroe are all here, with a new portrait of Andy Roddick and many more on the way. Of special interest is his nuanced treatment of Anna Kournikova, who has become a tired caricature of herself in the general media.
I call Greg's treatment the of Anna "lost portrait" because he captured Anna in the twilight of her career--her last sustained effort to be a successful tour player. Yes, the physical beauty is more than evident and I admit it, worthy of appreciation. But for the first time, a few cracks appeared in Anna's icy demeanor, and Greg also used his camera to look through and see something verging on human emotions. The result in unique and also fascinating.
The only place you can find it is here on Tennisplayer. Click here to Become a Subscriber!