In his first two articles, noted orthopedic surgeon and tennis researcher Dr. Ben Kibler has shared the results of his ongoing studies of the serve and elite servers. (Click Here for Part 1. Click Here for Part 2.)
In this third article he outlines his overview of what he calls the Serving Nodes. These are a series of key positions and motions in efficient, high level biomechanical serving. There is more here about the critical role of the back foot.
But Ben also explains the role of correct hip tilt, a much misunderstood topic, as well as the correct rotational offset angle between the hips and shoulders, and the range of correct alignment between the shoulder and racket arm in the windup.
This is important, valuable work which provides a basis for reinforcing--or over turning--many widely held ideas about the serve. I've learned a lot from Ben and am delighted to share his work on Tennisplayer!
Click Here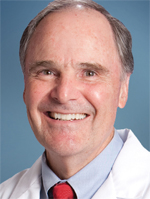 Dr. Ben Kibler is an orthopedic surgeon and Medical Director at the Lexington Clinic Sports Medicine Center, in Lexington, Kentucky. He is the Sports Medicine Advisor to the Professional Tennis Registry and also the Women's Tennis Association. Ben is currently working with WTA tour officials and coaches on a study of women's professional serving. Ben is a member of the USTA Sports Science Committee and was a founding member, and is Past President, of the Society for Tennis Medicine and Science. In 1998, he received PTR's Stanley Plagenhoef Award for his work in sport science. In 2009, he received the International Tennis Hall of Fame Educational Merit Award.
Copyright Tennisplayer 2018. All Rights Reserved.