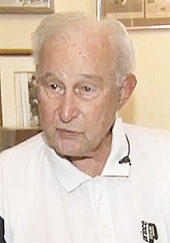 At age 91 Fred Kovaleski is one the elite players in the world, having twice won the European 90 and over championships. He took the National 85 Grass singles from 2010 to 2012. And in doubles he won 5 national senior titles playing with the great Tom Brown. (Click Here.)
In this day and age, he might have made a living playing on the professional tour. You might have even have heard his name. But in his era, you could still say tennis took him around the world.
Fred began playing tennis at age 11, because of his handball skills. He caught the eye of tennis coach and promoter Jean Hoxie. She took him under her wing, providing racquets and balls, and teaching him tennis, social graces and dress code on and off court.
He quickly rose in the ranks to the top 5 in the 15 and under and then the 18 and under. At 17, he was named to the Junior Davis Cup Squad.





Click Here