The Life of Tony Trabert
Part 4
Mark Winters
---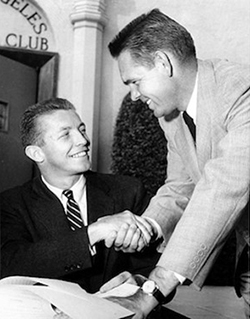 Though Tony Trabert possessed Gentleman's Quarterly good looks augmented by a charming personality, he didn't act like an entitled elitist.
He was humble and enjoyed tremendous popularity, which extended beyond the world of sports. But, with a wife, trying to live on "travel expenses" and "per diem" wasn't a promising way to establish a solid future. So, he signed for a guarantee of $75,000 and joined the Kramer Pro Tour.
Jack Kramer was a slashing serve and volleyer who tempered his aggressive play with savvy tactics. These traits carried over to his professional tennis promotion efforts. Though I never spoke with Jack or Tony directly about this, it seems that the appeal of a Tony Trabert – Richard Gonzalez tour was The Golden Boy Versus Mr. Sullen.
Richard, always felt that Jack low-balled him financially when he was the best player in tennis and hated Trabert because he was always portrayed in exemplary fashion and also happened to be Kramer's good friend.
The Trabert – Gonzalez Tour began December 9, 1955, at Madison Square Garden in New York. The total was 101 matches on five continents. (For an article on Gonzalez as the greatest player of all time, Click Here.)
Gonzalez dominated the series 74-27. But most of the matches were played indoors on a quick canvas court that traveled with the players and had to be laid-out on different underlying surfaces from city to city.
Want to study the rest of this article?
Click Here
to Subscribe!