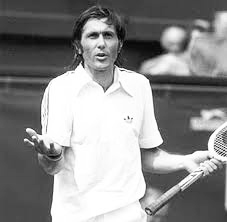 It was late on the second day of the 1981 U.S. Open, and the wind had begun to kick up. Many of the 8,000 or so fans scattered among the upper reaches of Louis Armstrong Stadium had been drinking. There was one more first round match left to see, and they were hell-bent on seeing it, so they began to climb down and fill the empty seats closer to the court.
When one of the players, a long-haired 22-year-old from the Kentucky backwoods named Mel Purcell, appeared, he was greeted with a beery big-city salute. "Nice headband, ya sissy!"
Purcell may have been a country boy, but he wasn't used to this treatment in New York. In his few visits, he'd become a fan favorite. "Give 'em hell, Mel" was a common cheer, and the fans loved it when he walked out for one match in a New York Mets batting helmet.
But on this night, Purcell was scared of what might happen to him. He was scared of the crowd; but he was even more worried about his opponent.
"I've never been so nervous for any match," Purcell remembers. "You never knew what Nasty was going to do next. And I knew 90 percent of the fans were going to be for him."
Click Here
---
| | |
| --- | --- |
| | Steve Tignor is one of the most experienced, well known and respected authors, reporters, and commentators on professional tennis, present and past. A senior writer for Tennis magazine, he is also a columnist for Tennis.com and ESPN.com. He is based in Brooklyn, New York. |
---
High Strung is the untold story of the golden age of tennis, focusing the legendary rivalry between John McEnroe and Bjorn Borg and the 1981 U.S. Open final. As the brilliant excerpts published on Tennisplayer covering the life and career of Ilie Nastase show, however, it is much more, as Steve's vignettes bring to life the other stars of this great bygone era, including Jimmy Connors, Vitas Gerulaitis, and Ivan Lendl among others.

Click Here for More Info or to Order!
---
Let's Talk About this Article!

Share Your Thoughts with our Subscribers and Authors!

Click Here
---
Contact Tennisplayer directly: jyandell@tennisplayer.net
---
Copyright Tennisplayer 2005. All Rights Reserved.