Maximizing Player and Coach Relationships: Part 2
Kyle LaCroix
---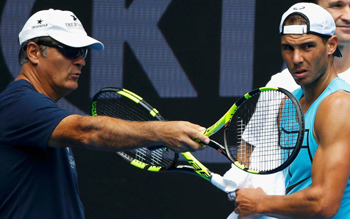 In the first article in this series (Click Here) I presented some of the results from a study my company SETS did in conjunction with Stanford University. A key question was who the player and coach were as people, and another critical factor was their ability to communicate.
But now let's look at a further vital factor, having a team concept. In great coaching the team, the athlete and the athlete's security, both mental and physical, came first. Great athlete coach relationships always have the coach working with the athlete, never for them.
The athletes always felt that the coach put them first in everything they did. The coaches never made themselves bigger than the game. They were first to give credit to the athlete after a win and the first to defend them after a loss.
As an athlete, it should provide comfort knowing your coach has your back. However, the one person that should believe in you more than a coach is yourself.
You owe it to yourself and the coach to do your own research, study, and bring your ideas and questions to the court. Any great coach is more willing to go out of their way for you if they know you are taking a genuine interest in your own game.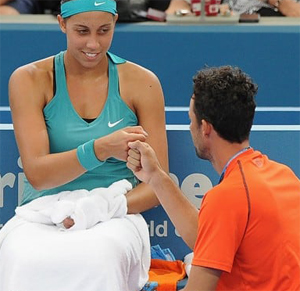 Ego
Ego is a significant factor in the athlete coach relationship. But when I say ego, I am not directly talking about the level of humility or its lack in the coach or the player.
I am speaking about who comes first. Does the coach want to be successful or does he or she want the player to be successful?
Does the coach want dinner at 9pm or does the player? Oftentimes, coaches get into a mode of what's best or most convenient for them.
Do coaches base critical and non-critical decisions on their experience, expertise and understanding or on their own egos? When they release the ego, it's surprising how many more good decisions coaches do make.
As an athlete, a coach's ego can be difficult for two reasons. The first is that you are trying to be respectful and not question what the coach says or does, assuming they are basing that on their expertise.
The second is that it can be hard for athletes to distinguish between ego and knowledge. A coach wants to practice earlier than usual. Is this because he/she wants his athlete to have an earlier night before his athlete's match tomorrow or so that he/she can get back to the hotel to watch some big game?
But if you remember from the first article, creating a positive learning environment means you as the player can come prepared with plans, suggestions and facts as to why a different option may be more beneficial for you both.
The key word is both. If the coach is using his knowledge, he will appreciate this and agree. If the coach has an ego, he will agree as he feels it still benefited him in some way.
Elevated Standards
Great athletes and great coaches that have achieved significant levels of success all have high standards for themselves and others. It is an occupational prerequisite at the elite level.
Other people on the team or in the entourage know this. It is not something that is explained or discussed.
On the best teams it is inherent. On strong teams and in great athlete coach relationships the standards are not dictated by the head coach they are communicated among the members.
A great example of this was during a coaching stint I had at the Harry Hopman Academy at Saddlebrook Resort. There was a famed and feared hard-nosed Colombian who was the director of coaching. I always got along with him because I listened, observed, and worked like a rented mule.
Some coaches would leave the room when he walked in. One day, a new teaching professional arranged activities on his court differently from the Saddlebrook way. Before the director could eviscerate him, two fellow coaches ran over, and politely but emphatically told the new coach, "That's not how we do things here."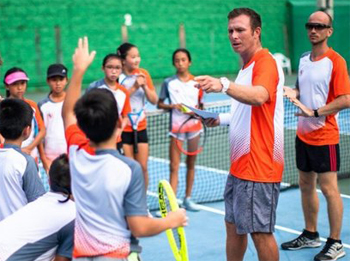 They then showed him the way and saved the day for all of us. With the right culture, standards are inherently learned. Another head coach or tennis director might create a different structure, but whatever the structure, the team members need to embrace it or leave the team.
But as an athlete, it is also fundamental to develop your own standards. By establishing high standards for yourself, it's never an issue of crossing your coach's perceived line. It will be an issue of crossing your own line.
That type of accountability garners respect and enhances the athlete coach relationship even more as now the coach can focus on his role as a coach and not on discipline. Discipline to an athlete should never about punishment, it should be about holding the athlete to that higher standard.
Meticulous and Detailed Practices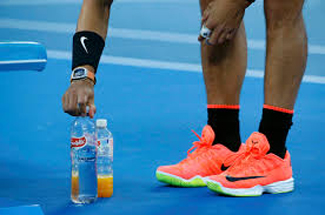 Details! We have heard this word before. But what does it really mean? There are so many facets to a practice and the ongoing team experience.
What is the purpose? What is the method? What is the theme?
From the study by SETS Consulting, examples of the intricate details the athletes gave us were all across the board. Which also tells you how many different small things could be covered by great coaches.
But being brilliant at the basics was a common denominator. Harping on fundamentals, breakdowns of patterns, shotmaking, technical minutiae was there.
But so were many other parts. The color of the sports drink in the cooler, the angle of the benches, the height of the targets on the court, the manipulation of crowd noises and wind patterns to emulate a rival's home turf. Think of Nadal and his obsessive placement of his drink bottles.
Some of these things might sound over the top, but there are an example of the passion of the coach and the desire to provide the best preparation and feeling of control in the mostly uncontrollable environment of match play.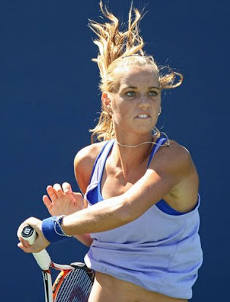 For athletes going through what may seem endless repetitions, repeated drills and even examining the way players drink out of water bottles, understand that practice is not designed so much for enjoyment, but for improvement.
There should be an aspect of shared fun involved in the stages of the development process regardless of player level, but the most important aspect is going to be the progress.
In the spring of 2019 I had the chance to host a training camp in preparation for the Miami Open for two WTA Tour players, Arantxa Rus from the Netherlands and Viktorija Golubic from Switzerland.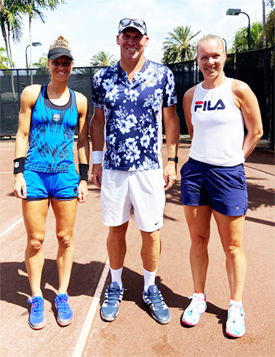 This was my first time meeting the two of them in person. We had a great week and both players were happy with their level of play going into the tournament. But as a gesture of connection I wrote them each a personalized thank you card by hand in their native languages.
For Arantxa it was in Dutch and for Viktorija it was in Swiss-German. For those that know anything about the Swiss-German language, I can assure you that the card was not easy to write and took a few tries to get just right. They were both blown away by that simple gesture.
In the Spring of 2021, after the Miami Open I was able to host another training camp in preparation for the clay court season. My club has a beautiful red clay court that was perfect for the incoming Dutch players, Rus and Kiki Bertens.
They were incredible athletes, had a wonderful time and brought out a very high level of tennis. Despite all their laughter, the inside jokes in Dutch and the brutal acclimatization to South Florida humidity, their biggest thrill was receiving those thank you cards in
Dutch with a special message for each of them inside. "Heel erg bedankt!" or "Thank you very much!"
In the SETS study, every athlete interviewed shared one fact. Despite passionate teaching, candid feedback, high standards and surreal practice environments, it was not how much they improved physically, it was what happened in their heads and in their hearts. Athletes may or may not remember techniques, drills or coaching philosophies. But what they remember most are the coaches as people and how those coaches made them feel.