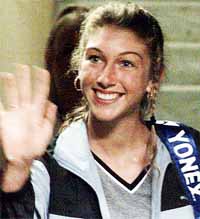 I've been fortunate to be around a lot of great athletes in every sport and know why they become very marketable. People have to understand a lot of times companies and manufacturers do things on your ability or your potential.
They try to project and they want to get that relationship with you early on. You've either got to be very successful in the juniors or do something way out of the box so that they see a lot of potential.
Some of these kids who have played up in their age groups and had success give you a little bit of a snapshot. It's a feeling of, okay, I think they have a chance to do well in the pros or be one of the best juniors in the United States or the world, and that can give other people an idea. But when it's all said and done there's no crystal ball and there's no guarantee.
Yet a player like Venus Williams gets a $12 million deal, $2.5 million a year from Reebok at age 15 and she only has to play three tournaments a year. People hear that and they think there's all this money in tennis. Unfortunately, it's all at the top or it's all on your ability to be able to bring awareness to someone's brand or to push product. And hopefully you can play!

Click Here
---
Rick Macci has coached some of the greatest players in the modern game during their critical, formative years. He is widely regarded as one the world's top developmental coaches. Rick and his staff have shaped the strokes of Jennifer Capriati, Venus and Serena Williams, Andy Roddick, and dozens of other successful tour players. In the last 30 years, Macci students have won 134 USTA national junior championships, and have been awarded over 4 million dollars in college scholarships. Rick is a USPTA Master Pro and a member of the USPTA Floriida Hall of Fame.

The Rick Macci Academy is located in Boca Raton, Florida at the beautiful Boca Logo Country Club, where Rick works in collaboration with Dr. Brian Gordon in implementing their new world class training system.

For more information about Rick's Academy, email him at: info@rickmacci.com or call Rick Macci directly at: (561) 445-2747

---

In this fascinating new book master coach Rick Macci tells the inside story of his relationships with some of the greatest players (and their families) in the history of the modern game, including Jennifer Capriati, the Williams sisters, and Andy Roddick. Rick also shares his secrets to success both on and off the tennis court through anecdotes and more than 100 sayings that exemplify his teaching philosophy.
---
Let's Talk About this Article!

Share Your Thoughts with our Subscribers and Authors!

Click Here