Robert Lansdorp
and the Champion's Mind
---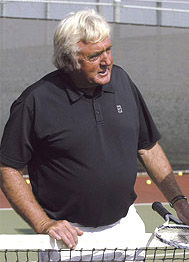 Taking lessons from Robert Lansdorp put me in the thick of Southern California tennis.

Editor's Note: This exclusive excerpt from Pete Sampras's new autobiography tells the story of Robert Lansdorp's early and lasting influence on Pete's game starting when the Sampras family moved from Maryland to Palos Verdes California in 1978.

Shortly after we got to Palos Verdes, we found out that it was a tennis-rich environment. The Jack Kramer Club, which had been instrumental in developing so many fine players (including Tracy Austin), was nearby in Rolling Hills. And then there was West End, where I began taking lessons from one of the all-time great coaches, Robert Lansdorp.

I was a shy, introverted kid, but if you "took" from Lansdorp, you were right in the thick of things and a lot of people checked you out. It seems weird now, but we were told shortly after I started working on my game that I was going to be a great tennis player. Almost immediately, people were comparing me to guys like Eliot Teltscher, saying I was as good at fourteen as Eliot, a prodigy, had been at sixteen. (He went on to have a great pro career, becoming a perennial world-top-ten performer.)





Robert laid the foundation of my ground game.




By the time I reached my teens, I assumed that I was going to win Wimbledon and the U.S. Open, which was a real reach. A lot of kids are told they're great, believe it, work toward it—and eventually fall by the wayside. They may not have the right temperament or long-term physical assets; they might not be able to handle the expectations, they may have insurmountable flaws in their technique, their dedication, or approach to their career. The idea that none of the things that could go wrong would go wrong is borderline preposterous—except when it isn't.

But maybe the assumption that I was going to be as great as everyone suggested helped me become what I am. Deep down, I knew. I had that confidence. The amazing thing is that nothing happened to break it, tone it down, or take it away—and I went through a lot that could have robbed me of that sense of destiny.

The foundations of my ground game were laid by Lansdorp. He's an icon in Southern California tennis circles, legendary for his no-nonsense drill sergeant approach. His fingerprints were, and still are, all over some of the best ground strokes in the game. Almost all Lansdorp protégés developed huge forehands. He teaches a fairly flat, clean, economical stroke, and he was especially good with girls, including Tracy Austin, Lindsay Davenport, Melissa Gurney, and Stephanie Rehe, all of whom were junior sensations and, to varying degrees, successful pros. Robert's best male player, until he started to work with me, was Eliot Teltscher. Ironically, Eliot became better known for his powerful backhand, and that's what I meant when I said that every player has natural tendencies that prefigure how he would turn out, style wise.

Robert was a good guy who already had great credentials when we met. Robert comes across as very tough; he's certainly outspoken and brutally honest. If he didn't care for you, he didn't hide it. Those qualities hurt him, but he was kind of a loner who always insisted on doing his own thing his own way.

I was a hard worker as a kid, and I respected Robert. He intimidated me. He's a big guy with huge hands and a very gruff manner. My lessons were on Thursdays, and I remember being in school and feeling kind of nervous, looking at the clock, because I had Robert from 3 p.m. until 4, and as much as I liked taking lessons from Lansdorp, I also couldn't wait until they were over.

A genius for feeding balls.

When I started playing, it was still the wooden-racket era, and Robert taught me to hit properly. A few years later, technology would transform the basic tennis racket, and eventually it would be easier for everyone to develop a weapon. But I shaped mine the hard way. Some of the things we did were very basic. Robert would open his racket cover—back then, it was just a soft, zippered vinyl case that covered the racket head down to the throat—put his keys inside of it, and close it back up on the head of the racket. (Robert always had about forty keys, so his key ring was heavy as an anvil.) Then I would practice the forehand stroke with the weighted racket. For a little kid, that was tough, but it taught me to drive through the ball. With Robert, it was all about the sweet spot and driving through the ball.

There was no secret technique in Lansdorp's repertoire. His big thing was repetition, which had a critical side effect: it taught extreme stroking discipline. Robert had this big, supermarket-size shopping cart filled with balls, and whatever we were working on—preparation, taking the short midcourt ball, the running forehand that became my trademark shot—we would do it for an hour, or my half of the hour that I shared with Stella. We did drill after drill after drill.

My running forehand is all Robert.

Eliot Teltscher thinks that Robert has a genius for feeding balls— a job you wouldn't think is that difficult. But Eliot is right; Robert put the ball in exactly the right place, time after time. And we're talking about hundreds of balls an hour, day after day. I hit a million balls and that was important—I had to get that muscle memory, burn it in so it was a natural thing.

One of Robert's favorite tricks was hitting these big topspin shots right at me, jamming me. And remember, this is a very big man who weighed two hundred plus, hitting with a skinny twelve-year old. Fending off those shots taught me to stand in and go toe-to-toe with him, trading shots. That toughened me up. Robert would stand in a position favoring one leg so that he could get balls out of the cart in a hurry with one hand and feed with the other for hours. He ultimately had hip surgery, and I swear it was because of that leaned over feeding position. He would take up that post right around the middle of the center service stripe and bang big forehands cross-court for fifteen-minute stretches at a time. It was exhausting.

My running forehand is all Robert, and so is my version of the forehand approach shot from the midcourt—one of the trickiest if least flashy of shots in tennis. This shot can be a putaway, an approach shot, or a rally shot. It's a tough one because it's much easier to hit running side to side than forward and back. When you're moving into the court, you've got to get enough lift on that shot to clear the net, but cover it enough to get good pace and depth (and not drive it long).

My forehand changed very little over the years.

I changed my forehand a little as time went on in the pros, using a little more topspin to increase my margin of error. But it's changed very little over the years, and if one of my kids decides he wants to play tennis, and Robert is still on the court, he'd be the man I would ask to teach it. A few years ago, I was at the Riviera Club, where Robert was teaching at the time, and he asked me to hit with this twelve-year-old he was developing. I helped him out and thought nothing of it until a few years later I recognized the girl on television; it was Maria Sharapova. Robert had a sharp eye for talent. He was also good at intuitively understanding who "had it"—who had the potential and grit to be great, psychologically. He figured out your personality and heart. But God, was he tough!






---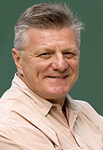 Peter Bodo is one of the most prolific and respected tennis journalists in the world. He is a senior editor and the chief columnist for Tennis magazine, and has written for Tennis for over 30 years. In addition to collaborating with Pete Sampras on his autobiography, Peter has authored numerous works on everything from the pro tennis tour to Atlantic salmon fishing. His novel the "Trout Whisperers" will be published later this year. Bodo lives in New York City with his wife, Lisa, and 3 year old son Luke, but likes to roam the Catskill Mountains hunting and fishing near his farm in upstate New York.
Click Here to read his Blog on Tennis.com, Peter Bodo's TennisWorld!
---

In this new autobiography, "A Champion's Mind: Lessons from a Life in Tennis," Pete Sampras tells the remarkable inside story of how he became the best player in tennis history and what life was like on at the top of the tennis world. Unlike my celebrity biographies, this book is remarkable for its candor and detail, as Pete shares his often blunt opinions about his family, his coaches, other tour players, his marriage, and the media, infused throughout by his characteristic dry humor. Tremendous reading for anyone interested in not only the life and times of this great champion, but the evolution of the modern game of tennis.
Click Here to order.




---
Let's Talk About this Article!

Share Your Thoughts with our Subscribers and Authors!

Click Here
---
Contact Tennisplayer directly: jyandell@tennisplayer.net
---
Copyright Tennisplayer 2005. All Rights Reserved.