Easter Bowl 2008
---
Kyle McPhillips: wrap around shades and an all around game.
Kyle McPhillips, the number one seed from Willoughby, Ohio, seemed as cool or cooler than any player at the Easter Bowl, with her relaxed style and trade mark wrap around shades. (Yes worn in the matches.) She had also cruised through the draw, amazingly, winning 0 and 0 in the first two rounds, and not losing a set going into the final. That was 12 routine sets against the best players in the country.
On paper, she was the heavy favorite over Sachia Vickery, from Mirimar, Florida, who came into the tournament seeded 17th and fought her way to the final with some tough pressure packed wins. This included a 3 set win in the semi the day before.
And in the final, Sachia just kept doing what she had been doing the whole week, playing rock solid, opportunistic tennis. She ended up scoring a surprising straight set win, 6-3, 6-4.
Or was it surprising? I heard one of the spectators say in astonishment, "I can't believe Kyle lost. She is such a better player." Well, obviously that wasn't true on this day in this match. To me was a fascinating example of the pressure dynamics in competitive tennis. These psychological forces ebb and flow, but in my view they are largely unrecognized by many or most observers. Yet they play a critical if not decisive role in the outcome of virtually every match.
Despite the fact neither Kyle nor Sachia is exactly 6 feet tall, both were explosive off the ground. Both players blasted multiple effortless winners off both wings that showed how talented they are.
Kyle especially has a very complete game. A surprisingly big serve, a well-developed slice backhand. And she likes to go in to the net and force the play.
Sachia Vickery: too tough for anyone in the draw.
Her forehand especially is a real weapon, and she can do it all on that side. Rip it hard and flat, roll it deep, and break it off short and quite heavy. She has amazing posture and balance and appears to be incredibly strong for her age.
It was obvious that Kyle's game was somewhat bigger and more complete than Sachia's. But in the end, being heavily favored in the Easter Bowl final probably had an impact on her ability to execute at critical times.
The first set was decided by a combination of winners, but more importantly, unforced errors at moments of opportunity, especially from Kyle. She missed a lot of what for her were makeable balls.
The fact is that was a credit to Sachia. In her role as counterpunching underdog she just stayed more even. She challenged Kyle to play at a very high level to beat her. She made only a handful of errors at critical times. She kept the points going, forcing Kyle into errors, and hitting clutch winners of her own.
Sachia got up two early breaks in the first set to lead 4-1. Then Kyle broke back to serve a t 2-4. But neither player could hold and they exchanged breaks again to make it 3-5 with Kyle serving, this time to stay in the set.
They played a long moonball first point--one of the very few like that in the match. Kyle eventually took it at the net with an overhead winner. Then she ran it to 40-0 with a couple of quick winners. Now it looked like Sachia would have to serve for the set.
But then Kyle made 3 unforced errors on her forehand, and suddenly it was 40 all. The played an unbelievable all court point, both players tagging the corners, both players at the net at different points. Finally Sachia came up with a clutch forehand to get to set point, and then just took with another clean forehand winner. First set Vickery, 6-3.
So the question was this. Kyle seemed to have more game. Would she loosen up enough now to make some of the shots she had been missing? Or would she change her game and try to out rally Sachia?
And there you have the issue all players at all levels face. How do I adapt my game when I'm losing--if at all? Kyle answer was not to change a thing. She just kept going for it. It was impressive and showed a lot of courage.
Two players who stuck to their plans.
But the pattern of the second set turned out to be very similar. Every time Kyle seemed on the verge of getting control, she tightened up just enough to make a few errors.
With Sachia serving in the first game, Kyle hit a big return to win the first point. Then she made 2 backhand errors, and missed another relatively easy forehand return so Sachia got quickly to 40-15.
Sachia made an error, and Kyle hit a gorgeous forehand return and now it was 40 all. Sachia made another forehand error to give Kyle an ad, and you wondered if this was going to be a tipping point. Kyle moved in on the forehand return to try to finish, but missed it, then made another backhand error, then lost a long moon ball point. So Sachia held.
So now Kyle was serving at 0-1. She made a forehand error, but then hit a great forehand volley. Then she hit a great first serve and a dominating forehand winner to get to 30-15. But then she missed 2 more forehands. You get the idea of how her game went up and down.
And this is where Sachia was clutch. Having weathered the storm, she stepped up and stroked a clean backhand winner down the line, broke and was up 2-0.
The next two games were the same--winners and errors from Kyle, and clutch counterpunching from Sachia who now ran it to 4-0.
It was hard to believe the match wasn't over now, but as happens so often in junior tennis when there are a lot of tight points, slight shifts in the pressure can produce wild swings in the score.
With Sachia serving up two breaks at 4-0 things suddenly changed dramatically. At 15 all, Kyle made one of those big forehand returns. Sachia made a tight forehand error. Then Kyle hit a swinging forehand volley for a clean winner to get on the board and it was 1-4.
What happened in the next 3 games was similar. Sachia missed balls that she made in the first set, and Kyle banged the winners that she had been missing so narrowly earlier.
Easter Bowl Awards ceremony: Girls 14s 2008.
Sachia had an ad serving at 4-2, but missed a forehand and hit a double fault. Then Kyle came up with a clutch forehand crosscourt winner and suddenly it was back on serve. Serving at 3-4, Kyle absolutely crushed a short forehand on game point to even it at 4-4.
So after this big swing for Kyle, what would happen? The pressure was again even with the set basically there for either player. And the dynamics shifted again, back to the earlier pattern.
With Sachia serving at 4-4, they played a tough long point that ended with Kyle making a forehand error. They traded forehand winners but then two more errors from Kyle gave Sachia the game. So Kyle was now serving at 4-5.
Kyle kept going for it, but she quickly made 3 big errors. That--combined with one more rock solid forehand winner from Sachia--and it was over. Easter Bowl 14 title to the17th seed, Sachia Vickery, 6-3, 6-4.
It was a display of smart, determined, balanced play with some critical shot making. But my impression is that, the next time Kyle gets in a similar situation, her courage in sticking with her game is probably going to pay off. Think Ana Ivanovic and the Australian Open--followed by what happened at Indian Wells.
The Boys 14s: in some ways a similar tactical match up?
In some ways, the Boys 14 final shaped up in a similar tactical fashion to the match it followed on the stadium court.
You had the number one seed, Mike Rinaldi, from Palm City, Florida, who had cruised through his half of the draw without losing a set, playing John Richmond, from Pawleys Island, South Carolina, seeded fifth, who had fought his way into the final with two tough set victories in the quarters and semi-final.
Mike played up close to the baseline, hit big grounstrokes and tried to force play from the first ball. John was a lefty who played a more counterpunching style, mixed with aggressive opportunity shot making.
And there was also a similar pressure dynamic to the first match as well. Mike was the favorite to win the title. Would he be able to execute under this expectation the way he had all week? The answer turned out to be definitely yes. He got off to shaky start, but in the long run he was able to impose his game and take the title.
Mike Rinaldi: intense focus and the pressure to uphold the number one seed.
John held serve easily to start the match. It looked like Mike would hold also, but at 40-15 he floated a slice long and then hit a couple of double faults to get down a quick break point. He hit two big serves to get to ad in, but missed an easy forehand and needed another deuce before he finally held.
Then John held again easily. Mike looked even tighter in his second service game, hitting two doubles and missing an easy forehand to go down 0-40. But suddenly he relaxed and reeled off three huge groundstrokes to get to 40 all.
It turned out to be a pivotal game in the match. They played 4 more deuce points, both going back and forth between winners and errors. But finally Mike crushed a forehand and then a clean backhand down the line winner to get to 2 all.
The next game on John's serve was equally crucial, with 3 tight deuces. Mike missed 2 returns to start. But then he hit a forehand winner and got to 30 all when John missed a backhand. Then they played a tough point that ended with Mike at the net and John missing a lob by about three inches.
A fighting spirit and a nice reverse forehand.
That gave Mike a break point, but he made a forehand error, then missed a second serve return. Ad in. Then John missed a backhand. Deuce. Then Mike missed a forehand. Ad in. Then Mike hit a forehand winner. Deuce. Then Mike hit a forcing backhand crosscourt to get another ad, and finally converted when John missed a backhand.
So up a break now, Mike held easily for 4-2. Then he really got rolling, just pounding his groundstrokes and breaking again for 5-2. But serving for the set, you could feel the pressure come back. Mike hit three doubles and made a groundstroke error to give back one break.
So now John was serving at 3-5 to stay in the set. At 30 all, Mike hit another dominating shot, a clean backhand winner down the line that sounded like a bullet off his racket. He missed the next backhand he tried at set point, but then went in and knifed a perfect backhand volley down the line. John made a forehand error. And that was the first set to Mike, 6-3.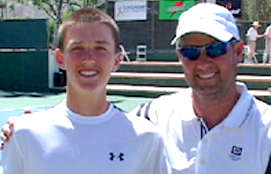 Mike and his dad Dennis, a Tennisplayer subscriber.
With the first set under his belt, you could see Mike's confidence go up. The balance between his winners and errors shifted slightly toward the positive. He hit a clean forehand volley winner and a couple of big serves and held. Then he immediately broke John with a series of very solid backcourt points. He held easily for 3-0. They both held one more time, so John found himself serving at 1-4 in the second. John showed he was still fighting, and hit one of his biggest forehand to hold.
But Mike was rolling now. You could see him relaxing and gaining confidence. He hit a gorgeous slice backhand approach and a deft high backhand volley angle. He followed that up with a rocket forehand up the line to get to 5-2.
In the last game, at 30 all John came in but Mike stuck a forehand at his feet, getting to match point. One more big forehand return and he was Easter Bowl champ, 6-3, 6-2.
By the way it turns out that Mike's dad Dennis Rinaldi is a subscriber and big fan of Tennisplayer.net!
Unseeded by the ITF, but an Easter Bowl finalist.
Now in the Girls 18s, a different story unfolded. Lauren Emberee, unseeded, from Marco Island, Florida versus Melanie Oudin from Marietta, Georgia, seeded number 1. The Easter Bowl 18s, in addition to being American championships, are also International Tennis Federation events. As such they are seeded according to the ITF rankings, which had a significant impact on the draw.
Although Lauren had a high American ranking, her ITF ranking was lower, and that meant she had to play the second ITF seed in the first round, a girl ranked below her in the U.S. I happened to watch that match and it was impressive. Lauren showed a combination of athleticism, ball striking, all around play, and fierce determination.
But in the final she was up against Melanie Oudin, who had been at least as impressive in working her way through the draw. Melanie was hitting the ball unbelievably well off the ground. She also had easily the fastest feet in the Easter Bowl. This girl took so many small fast adjusting steps that it was inspiring to watch. Her balance looked virtually perfect on every ball.
In addition to being the number one seed, Melanie had the additional motivation (and/or pressure) of knowing that if she won the Easter Bowl, she'd reach the number world ranking in the ITF Girls 18s.
Melanie: the fastest feet and maybe the best balance in the Easter Bowl.
The match was a tremendous battle mentally and physically--and I mean physically not only in terms of the shot making and shot patterns, but also in terms of sheer stamina, lasting almost 3 hours in the 90 degree plus desert heat.
What was equally interesting was how the strategy evolved over the match in a series of moves and countermoves. The match started out as a battle of huge groundstrokes. Unless you were there and were actually watching from courtside it's hard to convey just how hard these girls cranked the ball.
Serve wasn't a factor early as the players exchanged 2 breaks each to get to 2 all. Both players then held for 3 all, then Lauren broke again and served at 4-3.
Gradually over the course of the first set, however, Lauren started to vary her tactics. More and more she chose to move back in the court, take a little pace off the ball, and loop it back with more air over the net. She seemed to sense that, as good as her groundstrokes were, she just wasn't able to get control of the points or consistently hurt Melanie. In fact Melanie seemed to be feeding off the pace and was just a little more effective in the straight up exchanges.
A change in tactics to more loops in the first set.
At 4-3 Lauren starting to hit the ball higher and deeper and more to the middle. Then she suddenly hit a drop shot, and then closed behind it to hit a forehand volley winner. What a great tactic. You could see that Melanie was a little frustrated and ended up making a bad forehand error to put Lauren up 5-3.
Serving at 3-5, Melanie made another similar frustrated error. But then suddenly she shifted her own tactics. For the first time started hitting some loops of her own. She got an error from Lauren on a loop at game point and held.
So the matched changed in a fundamental way. Lauren made a move and got an edge but then Melanie countered. Lauren had a chance to serve for the set, but couldn't get it. She missed a couple of forehands and Melanie hit a short forehand winner and it was 5-5.
They exchanged two more breaks with similar combinations of winners, loops and errors. So a tiebreaker would settle it.
The first point of the breaker was a long looping exchange that ended with Melanie missing a swinging forehand volley. And it was downhill for her from there. Melanie ran down a drop shot and cranked it at Lauren--but it backfired when Lauren came up with a reflex volley winner. Now the errors started to flow. Melanie missed 2 forehands then missed a backhand slice.
Suddenly it was 6-0 in the breaker. Lauren finally missed a ball, but at 6-1 they played a 20 ball point and when Melanie missed, Lauren had the first set. They'd been out there more than an hour.
Some players might have given up after a set like that, especially after backing off and adjusting strategy, but you could tell no way this was going to be the case for Melanie. You could sense her determination from 50 feet away.
Melanie: staying tough in the rallies and still hitting winners.
The first game of the second set was more of the same--long brutal points. But Lauren hit a double and a backhand long to give Melanie the break.
Melanie immediately made two frustrated errors on her serve to go down 0-30. But Lauren made a rare moonball error, and then Melanie cleaned a down the line backhand winner. Melanie missed a forehand, but fought her way back to deuce hitting 4 overheads in one point to finally get the ball past Lauren. It was an amazing battle.
But you could feel that Melanie had turned the tables. She hit three slice backhands in a row and got an error out of Lauren. She hit service winners, smacked opportunity winners, and drew more errors with the slice. It looked like the strain was finally having an impact on Lauren who started to hit some double faults and made a few routine backhand errors for the first time. Melanie ran it out to 5-0. Lauren broke her, but then Melanie immediately broke back to take the second set 6-1.
So the sets were even, but the question was, who was winning points how? And how would that change--or not--in the third with the Easter Bowl title on the line? On balance, Melanie had hit a few more winners, and with her increasing willingness to stay in the long points, it had gotten harder and harder for Lauren to find ways to win points herself.
20 ball points in the desert heat.
The players were now routinely having 15 or 20 or even 25 ball points, and it was really, really hot out on that court. Melanie started the third by holding in a long deuce game. Then she broke Lauren to go up 2-0, aided by two double faults and a missed swinging volley. But again, Lauren broke back.
Serving at 1-2, 15-0, Lauren missed a forehand volley with the court open, and you just had the feeling that there had been one more shift in the mental balance in Melanie's direction. Sure enough, Lauren made three more errors, including a missed forehand slice on game point, then slammed a ball into the net, the first sign of frustration she'd demonstrated all afternoon.
Serving at 3-1, Melanie got more aggressive. She hit 3 huge winners, including 2 backhands down the line and held for 4-1. In the next game they played another epic point, one that seemed to take a little more out of Lauren, and on break point she eventually tagged a big forehand that landed about 3 inches long.
It wasn't over yet though. Serving for the match Melanie made a couple of quick errors, Lauren cleaned a backhand, and then one more error from Melanie and it was 5-2. Lauren then held easily for 5-3.
Melanie and Lauren: an impressive match.
So Melanie had to serve it out. Which she did, impressively. She started with an ace. Lauren hit a backhand winner. Then Melanie won a long point, and then hit another ace. The match point was an amazing 21 ball point, and Melanie finished it with a clean forehand swinging volley winner. What a match! And what a Saturday--about 7 hours start to finish.
Now Click Here to go to the next page find out what happened in the remaining three finals on Sunday.
---
John Yandell is widely acknowledged as one of the leading videographers and students of the modern game of professional tennis. His high speed filming for Advanced Tennis and Tennisplayer have provided new visual resources that have changed the way the game is studied and understood by both players and coaches. He has done personal video analysis for hundreds of high level competitive players, including Justine Henin-Hardenne, Taylor Dent and John McEnroe, among others.

In addition to his role as Editor of Tennisplayer he is the author of the critically acclaimed book Visual Tennis. The John Yandell Tennis School is located in San Francisco, California.
---
Contact Tennisplayer directly: jyandell@tennisplayer.net
---
Copyright Tennisplayer 2005. All Rights Reserved.