Overview:
High Performance
Development
---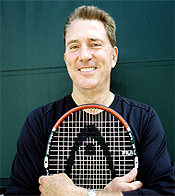 John Yandell
Editor
How do you develop a junior player--or any player--so that they reach their real potential? It's a lot more than just learning some basics about forehands, backhands, and serves. In this section you will hear from the top developmental coaches and theorists in the world: Peter McCraw, Rick Macci, Paul Lubbers, and former world class players such as Gene Mayer, among others.
You'll learn to understand the complex interplay of factors that go into successful training. You'll hear about the timing and stages of development, and how what seems like a good idea in the short run may be a big mistake. It's critical information if you are a parent or a coach. It's something players at any level can incorporate into their own games as well.
The only place you can find it is here on Tennisplayer. Click here to Become a Subscriber!