Emotional and
Mental Pitfalls
Ben Loeb
---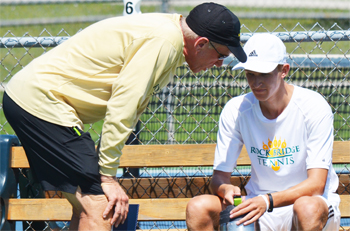 In my last article in this new series for Tennisplayer, we looked at techniques for developing confidence. (Click Here.) Now let's look at some of the pitfalls many players encounter and must strive to overcome in that pursuit.
Learned Helplessness
The first pitfall is learned helplessness. Learned helplessness is the belief that you can't change the course of negative events--that failure is inevitable and insurmountable. This is an ego protection mechanism.
When an athlete sees himself as victimized by the circumstances, he performs as if he were helpless. The belief is that failure is beyond the athlete's control, and nothing can be done about it. These players tend to have lower expectations and give less effort.
They may blame referees or umpires for their mistakes, or the wind, the heat, or the cold. They may exaggerate hurts and pains to have an excuse in case they don't win. Learned helplessness can also include the belief that opponents always get lucky breaks.
Want to study the rest of this article?
Click Here
to Subscribe!