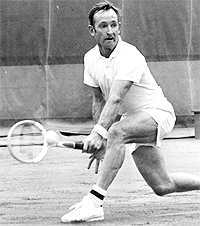 It was shortly after 11:00 P.M. on a warm winter evening. I was sitting in a window seat on a red eye that would take me from San Diego to Chicago, connecting to Washington D.C. Exhausted looking passengers were jockeying for overhead storage space. I was wishing that we would take off so I could have a drink.
Then to my amazement, a face suddenly appeared, the face of one of my greatest childhood heroes, a face that had launched a million topspin backhands. Was I really on the same airplane with arguably the best tennis player in history?
I watched mesmerized as Rod "The Rocket" Laver placed his carry on and his racquet carrying case into an empty overhead storage space a mere 15 feet ahead of me.
No one else recognized him, and truly, he looked ordinary. Seeing him now, it was no wonder that a security guard had recently denied the Rocket entrance into a charity tennis match he was to play at Indian Wells.
He had a grumpy and weary look, and I wondered where Rod Laver might be heading at 11:13 P.M. on a Thursday evening red eye, flying coach.
Click Here