The Year is 2005 !

---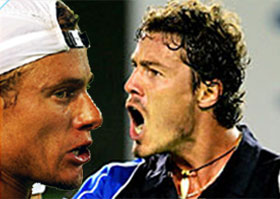 Lleyton and Marat both won nailbiters to reach the Aussie Final

Bring it-awwwn! What a blockbuster year this is shaping up to be for tennis lovers worldwide -- and what an explosive start to the season at the 2005 Australian Open!

When was the last time we had so many nailbiters in the heat of a Slam? Serena/Sharapova: 8-6 in the third. Hewitt/Nalbandian: 9-7 in the fifth. Safin/Federer: 9-7 in the fifth. Safin's coach Peter Lundgren was literally biting his nails in that one, one of the best matches of the new year. Injury time-outs, comebacks, mental and physical warfare, the Australian had it all, although I could have easily done without Olivia Newton-John's shockingly bad rendition of "Magic" before the men's final. Thank God there was some real magic on the court when she finally stopped singing.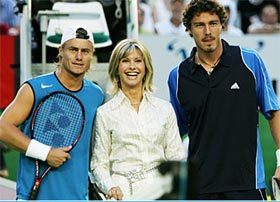 Olivia finally stopped singing.
The cast of characters in Australia gave us an exciting preview of 2005. Certainly there will be many more opportunities to marvel at the genius that is Roger Federer. However, it is looking like this year could be more competitive than last thanks to Marat and Lleyton.
The gracious and versatile Swiss will have a hard time topping his ridiculous 2004 record. But he's got a legitimate game to defend titles on every surface--agility, speed, court sense, power and self belief. He may seem quiet even understated emotionally, but you don't have his results without becoming very, very confident.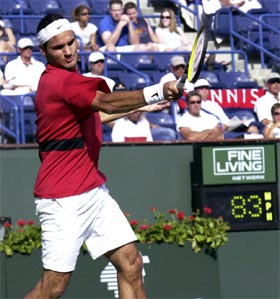 Federer's forehand, penetrating and impossible to read.


The nuance in his game makes classic tennis fans swoon, yet he also manages to drop the jaws of the uninitiated. His forehand is classic and penetrating, yet, it looks whippy and it's impossible to read. His serve isn't as hard as one-third of the men on the tour, yet he out-aces virtually everyone he faces. He doesn't look like he's trying, but like a ninja, he's suddenly in position. He's a total gentleman on and off the court, yet a fierce competitor. He is by far the most complete player since Rod Laver. But let's take it a little slower about calling him an all-time great--say when he wins about four or five more Slams. No doubt he could, and he very well might. No matter what, I think we'll all look forward to seeing how his story unfolds.

Safin's epic win Australian semi was Federer's first loss to a top tenner in over a year. And if not for Safin's superb effort in retrieving a dropper at match point in the fourth set breaker, Roger would have been preparing for his third consecutive big-time final (fourth if you count the Mattress Cup).

How did Federer view the loss? Here's a revealing comment from his on line diary: "Not having been able to defend my title at the Australian Open this year and bringing an end to my long series of match wins and victories against top ten players certainly is painful. The expectations prior to the Australian Open were huge and I must say that I am pleased with the result. It is more the fact of not having been 100% fit that bothers me. In any case, I have experienced once again how little it takes to decide on who is to leave the court as a winner on this level - and especially at a Grand Slam." It gives you the sense that it's not just his tennis game that's balanced and mature. It's part of who he is as as a person.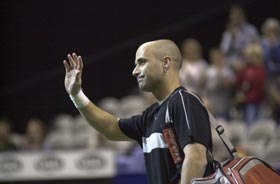 Does Andre have another Slam--or a Davis Cup--in his future before saying goodbye?

Heretofore, Federer's biggest threat was probably Andre Agassi. But Roger dismissed the renaissance man in a straight-set quarterfinal that probably could not have gone either way. Did the 34 year-old American have too much integrity to speak up about a subtle injury to his hip or did Roger just make the legend's footwork look pedestrian? Only Dre, Steffi and Team Agassi know the answer. Even if he had won, would he have fared any better than he did last year against Safin? Well, what we do know is that he'd get better draws if he'd play more tournaments. But even the fittest 34 year-old in sports has to pick and choose his moments to shine.
The top four players (Federer, Hewitt, Roddick and Safin, who all got to the semis of both Houston and Melbourne) should provide Andre with plenty of motivation. And Agassi takes an edge over Hewitt and Roddick into the start of the year, thanks to his dominance at the Masters Series event in Cincinnati last summer. Let's hope he can help the US team to its first Davis Cup in a decade, maybe pull a Sampras at the Open and call it a career. Does that sound like a fantasy? Well, let's remember what we all thought of Pete's chances before that last Open when he stepped out of the grave to win his 13th Slam.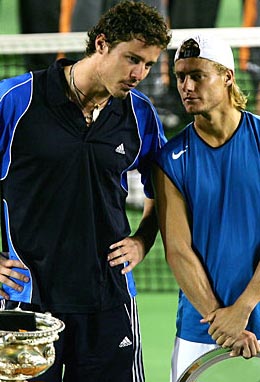 Even after the Australian final, as close to buddies as it gets on the tour.
Over the years, Safin and Hewitt have been as close to buddies as in gets in the most individual of all sports. They like each other, and there are lots of parallels in their paths to glory. Compare and contrast if you will.
As precocious teens both joining the tour in 1998, the two faced off in their early years for crowds and paychecks--though much smaller on both counts than in Melbourne Park in 2005. They share the distinction of being the only players to have beaten Pete Sampras in straights sets in a slam final (Safin got him at the 2000 US Open and Lleyton got him the following year). Both times, the other buddy was Pete's semifinal opponent the day before. Both do things on the court that make the purists cringe. You've got Safin with the pouting, tanking and racquet-snapping, and Hewitt with the most bellicose persona since Connors. He's probably a little too macho to compare to the tortured genius of Johnny Mac. Maybe Pancho Gonzales?
Despite the fact that Safin has done the "unforgivable," being fined for "lack of effort" in a sanctioned tournament, he's still hard not to forgive. Marat's a brilliant guy and a human soundbite machine. I learned that about him down in the press room after he'd just lost to Gustavo Kuerten in the second round of the 2002 US Open. He's humble, funny in any language and has a keen sense of irony even after a loss. So even if he gets all negative about Wimbledon, how can you not smile at something like, "Today we break racquets for tomorrow we die"? By the way, check out www.safinator.com for more jewels.
Oh, and then there's the big fella's game. Besides the obvious. a huge first serve and forehand, Marat possesses weapons from all over the court: a ballistic backhand down the line, sharp crosscourt angles; one of the least attackable second serves; an improved head for the big occasion, and pretty good feel around the net. Not only can Marat control the middle of the court and generate effortless power, he's got a game that oozes with options.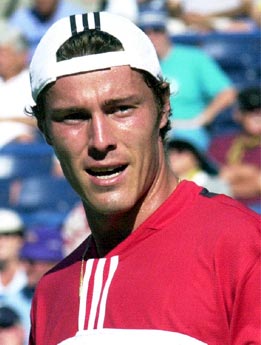 Marat is one of the few players I can forgive for the unforegivable.


I was in the stands for the USA versus Russia Davis Cup tie in Atlanta in April of 1998. Over the course of that weekend, you could just feel the kid learning from his teammate, Yevgeny Kafelnikov, not to mention the American Davis Cup hero opponents, Andre Agassi and Jim Courier. Safin, the skinny 18 year old with--in case you don't remember--an Afro, went down meekly to Agassi, 6-3, 6-3, 6-3. But then he forced Courier to gut out a five set comeback on the last day. In between those matches, he and Kafelnikov got stomped in the doubles thanks to the kid's inexperience at the net. The American team nailed returns right at him, and broke his serve regularly. But within 8 or 9 weeks, he went from some of the worst volleying ever in a pro match to finishing a handful of points at the net in a five set first round win over Agassi at Roland Garros.
Then there was that Sunday in September in Queens when, unbelievably, he dominated Pete Sampras with his returns and passes. And this was followed by some of the most listless performances and disappointing results of any player ever with that much raw talent and potential. Now, in 2005, he is regarded as a 'closer' with a devastating transition game and solid net game. Quite an odyssey as a player.
Lleyton Hewitt is a sympathetic figure for entirely different reasons. For all the "C'mons" in response to opponents' errors, and for the times he's managed to alienate his own Aussie fans with his complaining, screaming and even possible racial innuendo, Lleyton Hewitt has what sports fans really like. He's an underdog who routinely beats up on the big kids.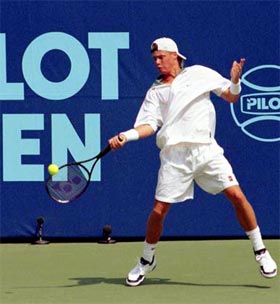 Hewitt has a fearsome game, but a bigger heart.

I was lucky enough to attend the USA versus Australia Davis Cup tie in the summer of 1999 at Longwood Cricket Club. Even at the age of 18, he had the temerity to win two singles matches in Dwight Davis' back yard. And he did it with a heart bigger than his game. Hanging around Newcombe, Roche and Rafter, he seemed a radical departure from the true blue, self-effacing Aussie with the attacking style. But he's got some of their DNA underneath the brash exterior. No excuses-- I would not allow my child to behave like that under any circumstance. But let's face it, professional sports has created its own set of standards in the past few years. And "Hatin' Lleyton" is actually pretty innocuous, compared to some of the thugs in other sports. His whole shtick is just his way of pumping himself up. The very best of the best choose not to be bothered by it and just go out and kick his ass.
Though his record against Federer has been depressing in the past 12 months, Hewitt sits solidly at number two and will not likely fall out of the top four anytime soon. Hard work, consistency and intensity have helped him and his coach, Roger Rasheed, resurrect his career after two down years. And let's not forget his unwavering commitment to Davis Cup that allows him to retain favor with his countrymen and the jingoistic Aussie tennis establishment, in spite of everything they don't like about him.
Between Safin and Hewitt, Safin will have better luck against Federer. But Hewitt should do better against Roddick and have a better overall record. Roddick will still give Safin fits. Rankings aside, it's all about the match-ups, isn't it?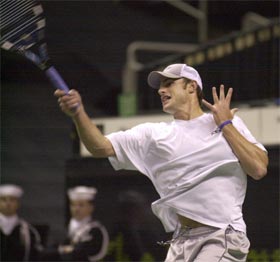 Andy Roddick: likeable, but a possible victim of expectations?

Unfortunately, Andy Roddick, the current posterboy of US tennis, has been coming up short of immense expectations--his own and everyone else's. His explosive power and media-friendly ways have made him one of the tennis world's most feared and, at the same time, most well-liked competitors. He's got the biggest serve in tennis, and he routinely delivers thunderous forehands and even running passing shots in the clutch. What's missing? Andy lacks the improvisational forecourt skills. Worse, he lacks the high power, diverse, and hard-to-read backhand he needs against elite tacticians like Hewitt, Henman and most of all Federer. His return game sometimes lacks consistency and punch. Many of the tennis cognoscenti consider him an overacheiver whose deliberate, heavy footwork will lead to a short career. And I agree. But he's still got major game and quite a few titles in his future, especially against the hundred or so guys traveling the tour who are much, much more limited he is. Plus, the kid is a hell of a fighter. It's no stretch to imagine a few of the aforementioned top dogs getting knocked off early in a slam and then Roddick overcoming guys like Nalbandian, Coria, Haas or Ferrero in a semi and then a final. It's just too bad that the expectations placed on him are so arbitrary--the next great American champion. Where's the upside in that?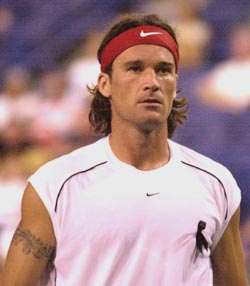 He's still very tough, but are Moya's best days behind him after the Davis Cup win?
Reigning Davis Cup champions, Charley Moya and Juan Carlos Ferrero have both won Roland Garros and been to the finals of another Slam, but I think their best days are behind them.
The same may be true for Gustavo Kuerten. The beloved Guga, with the mellifluous grunt and sunny disposition has not been the same since the first hip/groin surgery. And now he's had a second operation. This is despite the fact he was the only one to knock a hole in Federer's 2004 Slam record with a 6-4, 6-4, 6-4 all-court clinic on the terre battue of Court Phillippe Chatrier. He was able to alternately rush AND frustrate Federer on that day. It may be a lot to hope for but personally I hope he does recover fully and charms the crowds in Paris at least one more time.
Speaking of Roland Garros, look for Gaston Gaudio to peak in the springtime again. Does anyone else agree that he's a dead ringer for LeStat from Interview with the Vampire? Gaudio has a long way to go to prove his Slam was not a fluke. But he's already won 2 clay court title this year one over hard-hitting dual Olympic medalist, Fernando Gonzalez.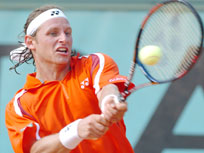 David Nalbandian probes opponents and often they collapse.

David Nalbandian, Guillermo Coria, Joachim Johansson, Tim Henman and Mario Ancic lead the list of players who have not yet won a slam. Nalbandian, the stocky and powerfully built Argentine, who moves with surprising grace, is a threat on any court, anywhere. He's extremely well-rounded and takes the ball early. He doesn't have any huge weapons by tour standards. But he's what I call a "prober." He gets his teeth into a match, probes the opponent, and finally, finds a way to make him crumble.
Can Guillermo Coria overcome his injuries and frailness on the big stages? He's a magician on the court, but can he concoct a potion that keeps him in good health over the grueling, year-long marathon of the ATP schedule? The French final loss has got to be a bitter disappointment and a memory that could haunt his career.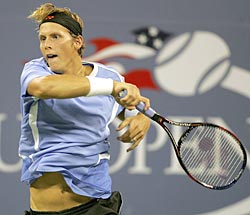 Joachim Johansson broke through last year, but will he continue to rise and make a Slam final?
Maybe Henman can improve his career best Slam semifinal finishes and avenge last summer's losses to Coria and Mario Ancic. Maybe. No matter what the delusional British press may think, Tim is one player who has consistently gotten the most of his abilities. Not that I wouldn't be happy if he actually did win Wimbledon, but am I expecting it? The people who want to publicly flog Tim don't understand the levels of the pro game.
I look for Mario Ancic to have a huge summer. I predict he will be the Joachim Johansson of 2005. After Joachim's win over Roddick at the 2004 Open and his impressive performance in the loss Agassi in Australia, he could easily take it to the next level, and reach or even win a Slam final.
Both youngsters can serve their way into the late rounds of any event. But personally I believe Ancic will be the stronger mentally and physically this year. This could be especially true on the lawns of Queen's Club and the All England Club where his more compact groundstrokes are a plus.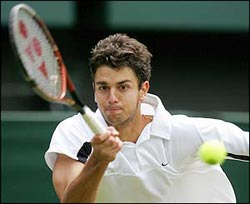 Mario Ancic will have a huge year--you heard it hear first.

Tommy Haas and Rafael Nadal are two players who might also shock the tennis world this year. Nadal would need a good draw, but he has the game to go a long way in his first appearance at Roland Garros. It's not a stretch to think he could eventually win there. Physically, he is the strongest teen on the tour since Boris Becker. And like a young Becker, he is already Davis Cup royalty.

Haas will be asking his dad's buddy Arnold Schwarzenegger if he has any pull with the USTA. If by chance he gets a draw like Roddick had in 2003--ie, not having to play Federer--he could make the Open final. He'd also need a minimum of distractions--we know he is easily distracted--to get the most of his potential at Flushing Meadows. Hard to believe he would win it, but some of the pressure and expectation that's been hanging over him for years is reduced since he's now viewed as a "comeback" player.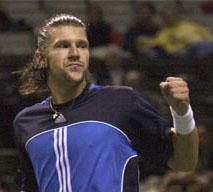 You may not have heard of Jurgen Melzer, but two wins over Agassi were not a fluke.


Another player on his way up that no one talks about is the Austrian Jurgen Melzer Who? His name is Jurgen Melzer. He's a 23 year old lefty with a very complete game. He's around 35 in the world, but look for him to break into the top twenty or higher. He's already beaten Agassi twice in straight sets--last summer in Toronto, and just this February in San Jose. Those wins weren't flukes. He's beaten Safin as well. He's explosive off the ground, and very aggressive with his returns. He moves well, loves to go to net, and has a great drop shot. In fact, he hit 3 drop shot winners against Agassi in one match--that probably never happened before.
Taylor Dent: serve and volley with emphasis on the serve.

Tomas Berdych: another prediction for a breakthrough.

;

Taylor Dent's old school game and newfound work ethic will probably continue to produce some results for the young Californian--especially if that serve goes in. He has a similar game, but I see weaker results in slams for Max Mirnyi. He had Tommy Haas on the ropes in San Jose, but Max always seems to let big wins get away. James Blake if healthy could pose problems for any of the top players. Same goes for Paradorn Srichaphan (he and his dad hired TJ Middleton to get his stylish game back on track). Guillermo Canas is sure to grind out a few big wins, as is Vince Spadea (he ain't afraid o ya).

Also, I predict this will be the breakthrough year for Czech upstart Tomas Berdych (who nipped Federer in the Athens Olympics). Yet another improving Spanish pro to watch is Feliciano Lopez (a lefty with an attractive, all-court game). Belgian talent, Xavier Malisse finally won his first title, which could help his confidence rise to the level of his talents.
| | |
| --- | --- |
| | |
| Serena is back at the top with fighting spirit and court intelligence. | She has the looks and the contracts, but more importantly, she has the weapons. |
Usually it's the men's tour that gives us unpredictable Slam winners and myriad upsets. But after a wild 2004, the women's tour is the one with the big question marks going into 2005.
Partly because of the injuries to the Williams sisters and the two Belgians, 2004 was a year of parity on the women's tour that resembled a game of roulette. More and more Russians seemed to emerge every week.
But suddenly, we begin 2005 with Serena returning to the top-- not just with the preternatural footspeed and super hero strength everyone's always noted. This time it was her fighting spirit and strategic intelligence that got her through a field increasingly unafraid of her many weapons. In theory Sister Venus shouldn't be far behind, but she just doesn't look happy on the court. Her forehand is now consistently errant and also she seems to get down without the same intense fighting spirit as Serena.
The stiffest challenge will come from Maria Sharapova, who has all of Serena's weapons and is not afraid to miss a few to make a hundred. At seventeen, she's got a lot of time to refine her skills and reduce the errors from the baseline. This year, I look for her to get even hungrier to finish points at the net. With her athleticism and Q rating she's probably close to the planet's most recognizable female athlete. Now if she can only get on the Russian Fed Cup team.
Big hitters, Svetlana Kuznetsova and Lindsay Davenport will be threats to Serena and Maria on faster courts. Anastasia Myskina and Elena Dementieva will be dangerous on slower hard courts and clay, thanks to their defensive skills and passing shots. Everyone talks about how pathetic Dementieva's serve is. But I have a different take. Some say she'd be number one in the world if she could serve like Maria or Serena or even Lindsay. Well, that logic may work in video games or Dungeons & Dragons, but not here, kids.
Just behind Serena and Maria: Lindsay, Kuzi, Dementieva, and Myskina.
The reality is that Dementieva's serve is strangely effective. It slices softly to the righty's forehand. Fifteen years ago, that would have been stupid, but nowadays, many women have their bigger weapon on the backhand side. And they tend to have westernized grips suited best for high hard balls. Even the top tour players find it harder to generate pace off a slippery, low slice to their right side. Kicking the ball up and adding 10 m.p.h. might be worst thing Elena could do! On the other hand, she could definitely do without the double faults.
The top players who've been sitting out have a serious mountain to climb. I sure hope Justine Henin-Hardenne is ready for a comeback. I'd like for her to be the Roger Federer of the WTA. Like many tennis enthusiasts born in the sixties or before, I'm a sucker for an all-courter with a one-handed backhand. If she gets back the question is, has the pace of the game passed her by? Martina Hingis made a brief foray back to the tour but quickly found out the danger of staying away for a prolonged period. Kim Clijsters is still nursing that wrist. I personally think it might be 2006 before she's really back, but I predict she's too determined not to be.
| | |
| --- | --- |
| | |
| Alicia is improved, gracious, and has a lethal backhand. | Is Amelie still a true contender against the top players? |
I'm a big fan of the way Alicia Molik comports herself. Not only is she the most improved player on the women's tour, she's a terrific ambassador for the game, a gracious winner and loser. And she's another all-court player with a sweet one-hander. To boot, she seems to enjoy building a point and finishing it with some net play or a lethal down the line backhand. In addition to taking out Venus Williams she's also the doubles titlist at her home Slam (with Kuznetsova). Good on you, Alicia.
Amelie Mauresmo used to be a true contender, but she's going to have to prove herself mentally ready to do battle with more than one or two elite opponents at the Slams. Coach Yannick Noah is sure to be a positive influence, but can she breaks through like her Belgian neighbors? Anything's possible, in the words of John McEnroe, but I have my doubts.
Everyone's talking about the gutsy play of Nicole Vaidisova as a potential breakthrough artist this year. She's just 15 and loves to compete with the big names. As soon as the age restrictions allow her to play a full schedule, watch out.
Too bad they hardly cover doubles anymore. It's a blast to watch!
Will Davenport and her partner, the remarkable cancer survivor, Corina Morariu make women's doubles the feel-good story of the year? What happened to the dominance of Vivi Ruano-Pascual and Paola Suarez? If Molik and Kuznetsova play together regularly, they will win a lot of tournaments. Will that be good for their singles?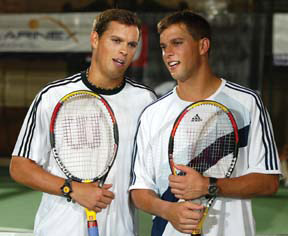 Mike and Bob Bryan--a top doubles team in a game can usually only be seen live.
Will the Bryan brothers regain the top spot? Will Fabrice Santoro and Michael Llodra continue to dazzle the crowds with their blend of finesse and power? The Chileans, Nicolas Massu and Fernando Gonzales turned their brand of baseline bashing dubs into gold at last summer's Olympic Games, overpowering Rainer Schuettler and Nicholas Keifer. Will the trendy two-back formation work against teams who are at home at the net? What will come of the recent changes in the familiar partnerships? Jonas Bjorkman now plays with Mirnyi, and Todd Woodbridge partners Mahesh Bhupathi. Will singles players like Mardy Fish and James Blake continue to do well in dubs?
In mixed doubles, it will be hard to top the Martina Navratilova/Leander Paes stories of the past three years, but Aussie rookie, Samantha Stosur and her partner Scotty Draper just won a Slam -- and this from a budding PGA player.
The networks make their decisions based on factors we do not control, but when you're at a tournament, go check out a doubles match or two. You'll love it.
"Okay that's a lot. But remember, that's just my take!" What's yours? Why don't you head for the Tennisplayer Forum and let me know? I have more than a strong suspicion not everyone out there feels the same as I do about every player--so let's talk about it.
---
| | |
| --- | --- |
| | Tennisplayer.net Tour Editor, A.J. Chabria, has played, covered and coached at circuit events all around the globe. Since 1997, he has been the tennis director at Lakewood Country Club in Dallas, one of Texas' oldest clubs. He also serves as a tester for the USRSA's Master Racquet Technician program. His wife and family are all tennis fans. In 2001, the couple honeymooned in Paris (it just happened to be during Roland Garros). |
---
Contact Tennisplayer directly: jyandell@tennisplayer.net
---
Copyright Tennisplayer 2005. All Rights Reserved.