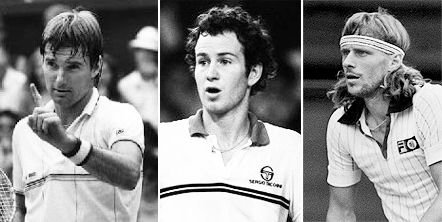 Summer of 1982. I loved my new environs at the NBTA with all my great new tennis friends, but crazy as my home life could be at times, I missed my family.
I worried about my brother. I worried about my Dad and his sobriety and his ability to take care of my mom and brother. And, of course, I was worried sick about my mom and her cancer and that pending doom that hung over our heads if it were to ever return.
Someone puts a racket in your hand one day. Take a couple of lessons, a workout or two. Then someone gets a funny idea that you should play a tournament. You take a couple beatings, stick to it a bit and before long you're driving home with your first trophy clenched to your breast.
Having to eat, drink, sleep a sport from a very early age to have any chance of success is probably not the most normal way to grow up. But it was the life I chose and loved from day one.
I was growing up in tennis' golden era. The names and personalities on TV will always be part of our sports history as professional tennis surged into the sporting mainstream. We all had our heroes, players we put on pedestals, whose panache and ability seemed safe to admire. Jimmy Connors, Bjorn Borg, John McEnroe among others.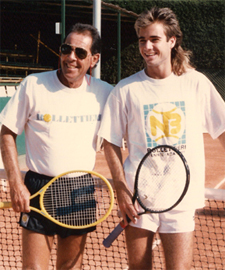 And now for me after a couple more years, a few more inches, 20 more pounds or so, all of a sudden my serves are popping a few feet up the fence, just like all the guys I looked up to, and my kicker is starting to really jump, up high and away, just like all the guys I look up to.
I'm running shots down I never ran down before, serves I used to just wave at I'm cracking back deep and with malice, my ground strokes and passing shots are getting pretty heavy.
The guys I looked up to at the academy want to hit a few, and we do, and I can more than hold my own. Hell, I even push them around a good deal.
Then one morning I pick up the sports page and there it is, the guy I was just pushing around beat one of my idols, and I get a little nervous thinking wow, maybe, just maybe, some day that could be me. I got my full ride to the NBTA more out of need than merit. but let the record be clear, having the top ranked kids at your academy was good for business.
Feeling pretty good about myself and how I was playing, it was off to Louisville for the National Clay Court Championships on my favorite surface. My arrived at Louisville National, and upon grabbing my luggage I was met by a gregarious man holding up the tournament housing card.
"Well hello there young man, my name is Jim Baird and I am in charge of the housing this week, and let me help you with your bags, because you are staying with me." I was riding pretty high then I recall, felt I had it going on. I was feeling really good when Jim grabbed my bags and walked us out to his brand new Mercedes and drove us to his beautiful mansion in the Louisville suburbs. I could get used to this life real quickly, I remember thinking.
A couple of things I knew I liked was getting a lot of attention and being around wealthy, successful people. Jim was both. We hit it off well from the moment we met; he just could not have been any nicer to me.
He escorted me around town that whole week, gave me some extra spending money to take my friends out, took me shopping and to dinner, and within a week he knew everything about me and my family and what my young tennis life was like and I felt I had made myself a great new friend.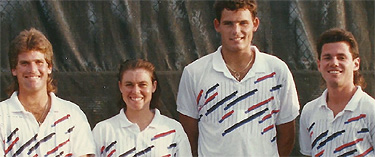 I remember wondering that first year in 1982 when I was 17 if Jim was gay, if he had picked up on some energy of mine or if I was just being a bit paranoid. Either way, I had a good tournament and as we parted, we traded numbers and addresses and promised to keep in touch throughout the next year, where hopefully he would house me the following year. In retrospect, I knew what that first look he gave me at the airport meant from my days at the Orlando Racquet Club when I would catch the older guys checking me out.
Fall of 1982, I'm back at the NBTA for my senior year of high school. I was one of the top two or three recruits in the country for college the next year. The payoffs from the hard work were about to multiply. Free stuff was great, free trips and tryouts were better, but a four- year all-expenses-paid full scholarship to the university of my choosing was pretty cool.
Nick had a great working relationship with the head coach at the University of Arkansas. This was Tom Pucci's top 10 nationally ranked program. From the first moment I met coach Pucci, I knew he was the right coach for me and I would be attending Arkansas the following fall.
He said all the right things to me from the start; that he wanted me to be a leader and that he would treat me and all his other players like his own sons.
Plus this was about as middle America as one could find. Considering what my emotional maturity was back then, it was likely best I chose a school with no semblance or proximity to anything resembling gay culture. I was thriving as a tennis player keeping my sexuality in the closet. This was no time to put my tennis future at risk.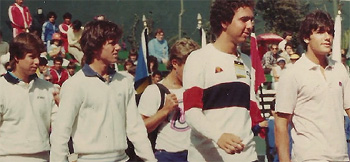 Back at the academy, I got a letter from my mom. When cancer enters your life it changes everything. You know it could back any time, you know you can never fully relax, you know it's random, aggressive, life changing, deadly. You try to act like everything is ok but tension always hangs in the air. I worried every day that I would get that letter from my mom saying the cancer was back.
This was that day, I opened the letter and there it was. Her cancer was back and it was bad. I started crying immediately. I got to the phone to call my mom but we didn't say much. It was such a profoundly sad moment. She said she would defeat this cancer but only if we both stay strong and fight. But she was not going to be fine.
I seriously debated taking the summer off to go home and be with my mother. But mom would have nothing of this. In one of the last and most fiery conversations I ever had with her, she implored me to go out and play with a mission. And I did.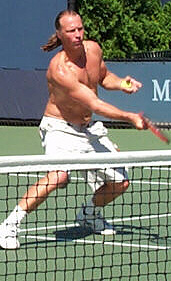 The summer began with Junior Davis Cup tryouts. Playing with a sense of purpose that was hard to explain or quantify, I just felt like I couldn't lose and I wouldn't lose, and I didn't. I swept through the grueling tryouts of America's top 36 juniors in style, winning my division and cruising in to a position on the elite Junior Davis Cup team.
I headed into Louisville once again, dreaming of becoming a national junior champion. I was excited to see my new friend Jim. He had been so kind to me and my family from the first moment of hearing about my mom's illness.
One other thing I I brought with me to Louisville that summer was a girlfriend. Mary CIare, whom I had met in Dallas at the National Indoors the past November. The look on his face when he saw who I showed up with was intense. He was not happy. I picked up on the vibe but he kept his cool and graciously welcomed us to his home.
That night he took us to dinner, his focus laser sharp on me, barely even acknowledging my girlfriend at the table. My girlfriend and I retired to our room for the night and did what young lovers do when they hadn't seen each other in a while.
The next morning Jim was tense. He pulled me aside and told me she can't stay at his house any longer and he had arranged for a hotel for her to stay in. He said that if the Junior Davis Cup coach found out what had happened the night before with us making all that noise in his house, I would be thrown off the team. He promised to keep the whole ordeal quiet as long as she just moved over to the hotel.
The tennis week commenced. I was playing well and had a good chance of making a deep run on my best surface, the green clay. After the matches, I would come back to my housing, to this giant house, all alone with Jim.
We would talk about life and the future and mom and her struggles and all the ways he could help my career. If I kept improving and if we stayed in touch he made it clear he would help me. We talked about all the great places we would travel and great things we would do, and how I would need a car at college and maybe we could go car shopping after the tournament was over.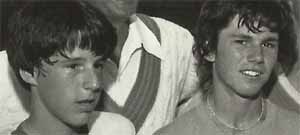 I won my early rounds handily, played a couple of tough matches and then had a big win in the quarterfinals. I rushed to the phone to call my mom and give her the great news but the conversation never got going. She was hurting badly and I instantly got scared that her end may be near. I debated defaulting and going home to be with her, but again she would have nothing to do with that. Her last words to me were, "Head up, Shoulders back."
I hung up crying. Jim walked in and saw me and told me to relax and he would see what he could do. I was upset, Jim was consoling me. He talked again about the truck he wanted to get me as he started to rub my cramping legs. I laid back, having already decided in my mind if he wanted to be with me I would let him. This was my introduction to the hustling life.
That's when his sports massage of my legs veered out of bounds as I didn't resist and just let him do what he wanted to while I just lay there. Somehow in my young immature mind I felt a sense of obligation to this complex man.
Next day, biggest match of my life. My mind and emotions are fried and confused and I'm playing a beast of a junior in Luke Jenson. I got off to a terrible start and was pretty much getting my butt kicked. I was down a set and a break and nothing was going well.
I was at the back of the court trying to gather myself on a scorching hot Kentucky morning when I hear a woman's voice yell right to me "Head up, Shoulders back and come on now!"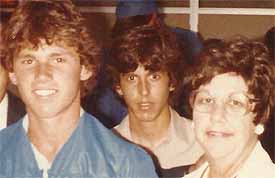 It was my mom, being escorted in by Jim. He had called her the night before and made arrangements for her to fly in that morning to see me play my semifinal. I almost lost it right there on the court.
It took me a couple moments to process what was going on, but before long, I dug in. My mom had never seen me play outside of the state of Florida, yet here she was, being escorted in to the front row to watch me play the biggest match of my life in front of a packed crowd.
I evened up the second set, eeked out a tight second tiebreaker, got behind again in the third, started cramping. But I never gave up, hung in there, hung in some more and in well over three hours pulled off a 7-5 victory in the third, a marathon comeback over one of the best juniors in the country.
I had 24 hours to pull it together and play for my first national title against soon to be famous Aaron Krickstein. Nick flew in for the event but chose to sit with the Krickstein camp, something that didn't thrill me, but this was no time for resentments.
We fought for hours, I'm hanging tough, it was 3-3 in the third and I got my introduction to the big time. Aaron started raining winners down on me one after another. Huge forehand after huge forehand and I remember thinking I can hang with these guys but the great ones have another level. Aaron took me out 6-3 in the third for the National Clay Court title.
Exhausted, right after shaking hands with my opponent, I hobbled over to my crying mom and just put my arms around her and held her as tight as I could. It was the most heartfelt moment you could ever imagine and I just don't think I could possibly have felt more love for another person than I did in that moment of embrace. From a dirt road home in the Orlando suburbs to my first ball hit with her on some scratchy public court, here we were on the national stage.