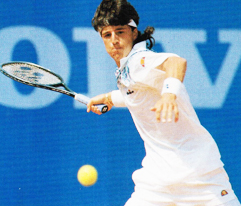 The crowd settles in. The umpire calls out: "Players ready? Play." I'm in the finals of my first ever major national tournament. July 24, 1983 in Louisville, Kentucky. The national Boys' I8-and-under Clay Courts.
Win this match and I go on to the National Championships at Kalamazoo the number one-ranked junior tennis player in the United States. Across the net from me is Aaron Krickstein, future top l0 in the world professional.
Playing Aaron on a normal day in itself is an enormous task. Today is no normal day. The stands are full of people. People from all areas of my life.
At court side sits my Junior Davis Cup Coach Brad Louderback. Next to him sit half a dozen of my teammates. Quietly some of them are rooting for me, some against me. You're never exactly sure who.
I'm part of a traveling team of the United States' best junior tennis players. We pound on each other by day, hang out and house together by night. Rivalries and resentments come with the environment. lt's a big deal to be a part of this team and I'm honored.
Next to them is my tournament housing host Jim, a gregarious 43-year-old heavy equipment dealer by day, manipulative sexual predator by night. He had been showing an intense interest in me for over a year now. I succumbed finally to his advances just two nights prior.
Now he sits front row, cheering for me like what happened was perfectly normal. I look at him. I look away, back to myself. Not one single thing feels normal about what transpired between us.
Right next to Jim is my girlfriend, Mary Claire. I invited her to Louisville to protect me from Jim. That didn't go so well. He kicked her out of my housing the first evening in town, to have me all to himself. He got her a hotel room.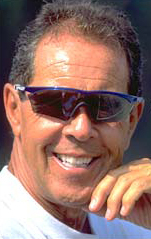 She is still here, oblivious to the nature of the man beside her. Equally oblivious to the reality of her boyfriend, who himself is just starting to understand he's not like the straight men he's been playing tennis against his whole young life.
On the other side of the stands sits my coach from the Academy Nick Bollettieri. He has chosen to sit with my opponent's father, Dr. Krickstein. This stings a little. Nick always said stick with the winners. I see who he thinks will prevail today. It will take my best effort today to pull him back over to my side.
Sitting to the right of my coach is mom. She is terminal. Cancer. My heart is so heavy I can barely stand to look at her. But this may be the last day I ever get to see her alive. Jim knew this. Unbeknown to me, he flew my mom in for the semifinals, where she helped will me to victory. Could we work our magic just one more time this most complicated of days?
My thoughts race as the match begins. How did I get here? From a two-room house on an Orlando dirt road to a borrowed racket at the public parks, to the world-class Nick Bollettieri Tennis Academy, to here playing for my first national championship? So many forces pulling at me, some of circumstance, some of my own doing.
My thoughts race more as the match begins. I have a major secret. I'm 18 years old and I'm not like my fellow tennis players. I'm a gay man in a straight sport. My awareness of this is near certain.
What is also certain is nobody is to know anything about my secret. Away from tennis, I will be hiding in the closet. On the tennis court, I will be hiding inside the baseline, in plain view for all to see. How will this play out in my life, being too afraid to live my truth in 1980's America?
I was born October 24 1964, the first son of Margaret Shields and Thomas Blair. All indications are I was not part of anyone's master plan.
My mother had great athletic potential. In her 20's she was playing in a developing professional women's basketball league. Her parents made her quit that league right at her athletic peak. My grandfather argued that the league was full of lesbians and that my mom needed to snap out of it if she was going to make anything of her life. Well snap she did, but not out of it. She fell in to a deep depression thereafter. Was the depression from the taking away of her sporting dreams?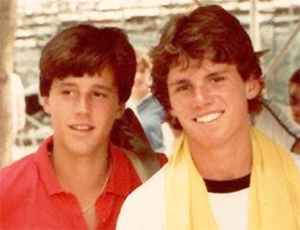 Or was it from the severing of the close connections she felt to her fellow players? I never know. What I do know is she spent her 20's in a great deal of pain. All the pressure to marry and live the devout Catholic life .
The treatment for depression then was shock treatment; the same treatment the psychiatric community applied to people struggling with their sexuality. I wish I could turn back time to learn for what she was really treated.
My father rolled in to town at age 25. Apparently he had a full life before meeting my mother. The story is at age 25 he stole his mother's Cadillac in Fort Wayne, Indiana, leaving his wife and two boys high and dry as he set off to Florida for a fresh start.
Did he leave them? Or was he chased out of town? We'll never know. My dad liked to drink and gamble. He was good at the former, not so good at the latter. Meaning he had to leave town a lot.
Both my parents were going through tough times when they met. My mother, my father. She 31, he 25. They met at the Elbo Room in Fort Lauderdale Beach, Florida. There is no fairy tale romance to relay to you.
All indications are they were not married when I was born. They shored that up by the time they had my younger brother Joe a couple years later. If there was such a thing as a loveless marriage, my parents embodied that. No hand holding, no affection, not a single loving emotion expressed toward each other in all my youngest memories.
So there we were. A poor family of four getting by on my father's odd jobs of painting and wall papering. When dad worked he could make a little money. The problem is he spent it just as quickly. Booze and gambling and fighting led to erratic work and lots of moving.
My mom would try to pick up the income slack when dad proved unemployable, but to little avail. It seemed like all chaos all the time; the perfect breeding ground for high anxiety.
Which at first sounds terrible, but being a kid in early 1970s America, having a bunch of nervous energy to bum everyday was not the worst thing. Everyday outside in my neighborhood was like the Olympic Games.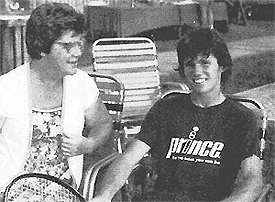 Kids everywhere, outdoors running around, playing sports. There always seemed to be a park nearby where I could go to play pickup games all day. Once settled in Orlando, I grabbed a little structure, joining little league, quickly becoming one of the best baseball players in the city.
Before long I was being entered in track meets to run the sprints. I don't recall losing very often. What I do recall is how much I loved winning. More than the winning was the attention I got for being the best. At least for a moment I could forget I was the poor kid from the house of nothing.
I could forget I had a drunk abusive dad at home who didn't seem to give two cares about supporting his family. I could forget all the yelling and fighting and drama and fear that not all was well in our fracturing home life.
Interestingly, it was those early athletic years when my dad was not around that I began to see a different life existed. My friends in sports would invite me over to hang out and play. This is where I began to see that other families had more than we did; larger homes, nicer cars, swimming pools, all kinds of luxuries we just couldn't afford.
More than the material differences, these families welcomed me in to their homes showing me what a supportive household looked like. I was immediately fascinated by how other families operated, beginning early in life to see that through success there was another way to live. For make no mistake about it, I was only welcomed in these homes because I was a winner.
My childhood seemed broken up in to two experiences. Inside the house, outside the house. Outside the house seemed endless adventure, with bountiful opportunities for success and validation. Inside the house was chaos.
My father was alcoholic . He would come home and we never knew what we were going to get. Was he going to yell, was he going to be playful, was he going to just walk right in and out of the house like we never existed?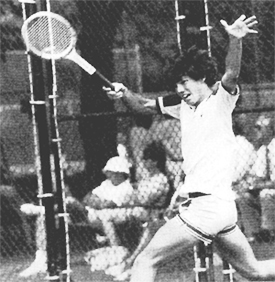 I came to expect the yelling, the drama, likely because it was most prevalent. In an odd way it was easier to deal with. It was more predictable. He had certain things he would say, often profane and denigrating. Knowing they were coming didn't make them hurt any less.
What made them tolerable was knowing that when he was done, my mom would come in to make everything better. For every shaming put down from dad, Mom would be right there with supportive talk, calling me special, smart, talented, and telling me that I will accomplish amazing things.
I had little idea what she meant specifically; she never gave exact details. What I did know was that I liked the way my mom could make me feel. I saw how soothing her words could be.
And so the turmoil. The drama playing out before me daily, often a battered and bloodied father stumbling drunk in to our house. His only words being, "You should see the other guy." Not exactly the words scared kids with their moms want to hear from the man entrusted to provide for them. I grew up with two strong voices in my life, both trying to define me in such different ways.
Through it all my mom, brother and I developed a tight bond; a survivors connection. We were all stuck in a traumatic episode we had little to no control over, nor could we leave the scene. My mom's Catholicism forbid her from divorcing him. It wasn't easy for my mom protecting us from him.
After a particularly tough experience, I was crying to my mom about how bad dad was when she would calmly say to me, "Now Bobby, you and your brother are the two best things in my life, and your father was a part of both of you happening."
I was too young then to understand the sadness in those words, that the only positive thing my mom could say about my dad was that he gave us life. Period. But that is what she said, and that is how I felt for long stretches of my childhood.
In our home the dynamic of having to be the caretaker had begun. I was young, really young, yet always seeming to be putting my mom and my brother back together by cleaning up or through soothing words. It all felt so out of control.
I hated the effect dad had on our household. Everything stopped when he entered. Our peace and serenity being smashed so unnecessarily. I needed that one activity that could be all about me, that could heal and soothe me.
That I didn't have to depend on two full teams showing up. That I didn't have to depend on anyone else for my well being. I had that at home already. Intuitively I wanted to play alone, by myself, outside the house to provide me all the things I wasn't getting at home. I wouldn't have to wait too much longer to find it.