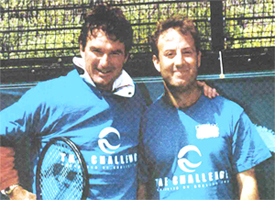 Jimmy Connors saved my life. With a snarl and a grunt and a backhand and a squeaky pair of shoes, he saved me--from, what? Predictability. Mediocrity. Irony. Unhappiness.
Connors saved me by legitimizing a sissy sport and making me a part of it. He saved me because he showed me how to turn thought into action. He saved me because he simultaneously let me lose my head and keep it when those around me were losing theirs.
He saved me because he was, as the saintly Arthur Ashe put it, "my favorite asshole." He saved me because he inspired me to play better tennis and apply that intensity to love and work.
He saved me because he didn't care about anyone but himself, because at heart he's a greedy, narcissistic, paranoid, tenacious, predatory, sensate creature--qualities that triggered my own visceral desires and lofty ambitions.
Why did I need Connors to succeed? After all, long before Connors entered my life, I was raised with specifically American and Jewish notions of exceptionalism. From birth, my older brother Ken and I were photographed and celebrated as extensively as the Kennedys. We were the stars of our family, the shining, entertaining, brilliant children of an upper middle-class couple.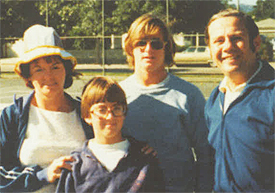 Great accomplishments were our destiny. Of course in a Jewish, urban family, these deeds would be achieved more with the mind than the body. Sports was for dumb jocks.
The best careers for us verbal types were as writers, scholars, thinkers. Ken and I were programmed that way. "How old are those children?" goes the joke. "The lawyer's two and the doctor is three."
How does someone as vulgar as Connors fit into that environment? What would he know of my parents' coffee table and its omnipresent Sunday New York Times? Like most athletes, he likely believes "book smart" is synonymous with "less smart."
The great tennis player Jack Kramer dropped out of college because he didn't want to read about kings. He wanted to meet them. Connors would love this notion, too, particularly since he saw himself as a king.
Ken and I occupied a different world than that of the jock. Ours was a family where brains trumped brawn. I admit it's rather puzzling and even disgusting that I, the bookish, friendly winner of sportsmanship awards and a dutiful second son, find myself so smitten with someone as crude as Jimmy Connors. It helped to learn, though, that Connors was also a dutiful second son.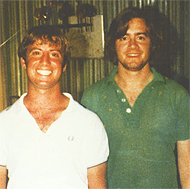 Yet if not for Connors, what would I be? It was Jimbo's world of action, not mine of contemplation, which pointed me to visualize success. Connors inspired me to be something other than a Beverly Hills lawyer, Madison Avenue hack, or Wall Street financier, all viable, easily-attainable career routes for a child of my streets.
Connors showed me another avenue. Connors showed me that the middle of the court was nothing. It was the lines where you wanted to live. Connors showed me it was worth pursuing passion. Jimbo and me. It's a twisted, one way love story, fueled by my quest for transcendence and the illusion of friendship.
Had all gone as I'd hoped, I'd have written Connors' sanctioned biography, filled with his insights on how his mother Gloria and grandmother Bertha made him a champion, his work with Pancho Segura, and how he won eight Grand Slam singles titles and what made his rivalries with Pancho Gonzalez, Bjorn Borg, John McEnroe and Andre Agassi so compelling.
And for a time a series of events at once envisioned and spontaneous made that look like a serious possibility. The year was 1990 and Connors had not played a match since injuring his wrist in February.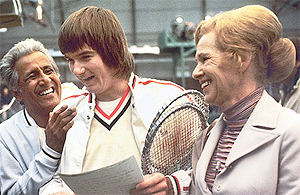 Concerned about Connors' possible retirement, I wrote an article for the long departed magazine World Tennis titled "Play It Again, Jimmy." The story explained my personal connection to Jimbo, a heartfelt affinity I believed must be shared by everyone in tennis. "Jimmy Connors' true gift," I wrote, "is his will to survive."
Then a week before the Open, his name was placed in the draw. Arriving in New York the day before the tournament started, I was devastated to learn he had pulled out.
On opening day I strolled the grounds, glimpsed a few matches and headed into the players' lounge. I was pondering a return trip to Manhattan. And then I saw him.
They say luck is the residue of hard work. Most of my many other face-to-face encounters with Connors had come everywhere from austere arenas at smaller events to private clubs. But this was the US Open, Jimmy Connors' personal pulpit. Shaking my hand, he said without any prodding, "That was a hell of an article. My mom loved it too."
Then he invited me to join him for lunch and introduced me to his older brother,Johnny, and a group from his hometown. Hours later, he asked me a question I'd waited eight years to hear. "Son," he said, "have you ever written a book?"
I found out later that "son" was a term of humorous endearment, popularized in the world of Midwestern junior tennis by none other than Connors.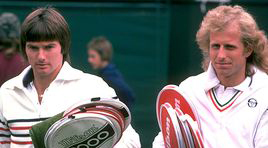 Right then, Vitas Gerulaitis, approached. Topic derailed. As my afternoon in Connors' orbit continued, I assumed Connors would politely utter the words, "We'll see ya." The dispatching never came. As I walked the grounds of Flushing Meadows alongside Connors, I witnessed a magnet. Connors attracted greetings from various media, agents, equipment company reps, writers and fans.
When another player asked Connors his thoughts on the current USTA president, Connors scoffed. "All these guys want," he said, "is a plaque with their name on it, as if they ever did anything. Tell you what. How 'bout I pay $200, give them a plaque and they can go away?"
We marched on. Connors joked with a frequent sparring partner, Aaron Krickstein, about the money "Kricker" owed him from a card game.
Then after the courts dried from an afternoon rain, Connors prepared for a practice session with Carl Chang (Michael's older brother, a fine college player). Connors' wrist required wrapping. He asked if I'd mind twisting a thin piece of gauze around it. "There, there, a little more," he said. "Thank you."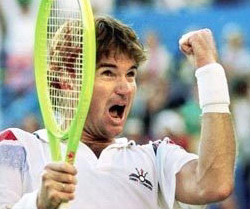 A crowd of no more than 75-100 people watched as Connors practiced for a brisk hour. We headed back to the locker room. He put on a new T-shirt and reconnected with his brother and group.
Soon, three of us were crammed into the back seat of a taxi. Beads of sweat glistened on Connors' face. As he turned back to glance at the Louis Armstrong Stadium, Connors said to me, "If I ever get back there, that place is going to rock and roll."
Prophetic? A year hence, people who wouldn't know a tennis racket from a croquet mallet knew all about Jimmy Connors thanks to his amazing, sentimental, fist pumping, media crazed run to the semifinals, including an epic, friendship-busting win over "Kricker," in which Connors came from 5-2 down in the 5th to win in a tiebreaker. But now, for the first time in his career, he left the U.S. Open without playing a single match.
As we rode in the cab, the book idea was, for me anyway, the elephant in the room. I wasn't stupid enough to bring it up. It was Connors who made the move. "We could be a good team," he said. "You're on the outside of tennis and want to get in. I'm on the inside and want to get out. Here's what I want you to do. You write down how you'd tell my story and why you're the best one to tell it. As soon as you're through, you call me, find out where I am, and fax it to me. Now get to work."