Update: Delray Beach
John Yandell
---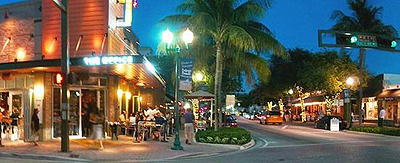 So it turns out Delray is the bomb. It's a throw back to the great old days. Before the massive crowds of Indian Wells or the Open. Fewer tour bureaucrats striding everywhere looking important. No wait to get a hot dog.
Relaxed. Fun.
The beach is great, a little surf, clean cool water. I got in the ocean twice and was instantly 10 years younger—at least for a few hours. And I got in a couple of fine dining experiences with Tennisplayer contributor and my host, Kyle Lacroix.
Atlantic Avenue is the main thoroughfare and it and the surrounding streets are full of cool restaurants and bars. Busy but not over packed even during high season and the tournament week. Nothing like the hideous vibe that has overtaken south Miami Beach.
Tennis
Now--as to the tennis. Plenty of seats. Looks like mainly a local spectator population. And really American. Also sadly pro Trump from a few objectionable comments I heard.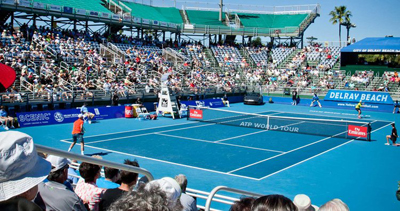 Fans packed the stadium to see John Isner play his first match. Only about half stayed for Raonic and Shapovalov. But there was a vocal Canadian contingent waving flags and rackets with maple leaf stencils.
The Mission
My mission was to take a look at 5 players all of whom conceivably could win a Grand Slam. And I was able to do that—even Nick Krygios who dropped out before his first match—stated reason an elbow injury. My thoughts?
Krygios
Nick Krygios has the game to win a Slam—or at least can hit all the shots that could win a Slam --or at least can hit them sporadically. Monster serve. Monster groundstrokes. But monster emotional instability.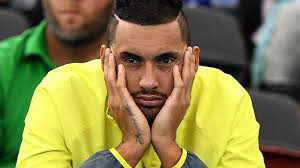 I got to Delray in time to see him practice the day he withdrew. Unlike his bizarre practice session I watched last year in Miami, (Click Here for that description in the first Delray article) he was more or less trying. Playing points with another young Australian.
He hit some shots with frightening velocity and also made some big errors and frightening shot choices. My guess is that he is so up and down he will never string 7 good matches together.
He was talking stream of consciousness to himself the whole time about other players, other sports, even some about what was happening as he practiced. But he didn't say a word about his elbow, that I heard anyway and I couldn't see any real impairment. But who knows.
Raonic
Milos Raonic has been to a Slam final. Last year though was his most injury plagued in an injury plagued career. I watch him play his first two matches.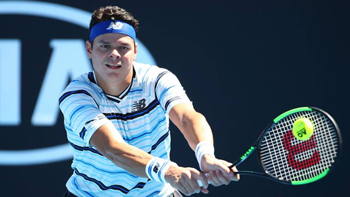 He eked out his first match. But in the second round he never really was in it losing to Steve Johnson in straight sets.
He appeared nervous and down. His serve is phenomenal but his forehand was inconsistent and his two handed backhand is a disaster technically.
He takes a huge outside backswing to his left, then rotates the hips and shoulders too soon so they get ahead of his arms and are already square at contact. That leaves the arms only finishing the swing.
That's why it sometimes looks like a two part swing. The body stops and sometimes the arms actually appear to lurch forward. Another negative is that even when he's healthy his movement is nowhere near Federer or Djokovic or Nadal or Andy.
He runs through coaches. Last year in Cincinnati I was talking to Dusan Vemic and Mark Knowles. They're gone. In Delray he was "auditioning" Jonas Bjorkman. In Indian Wells it will be Goran Ivanisevic. Who knows who it could be in Miami?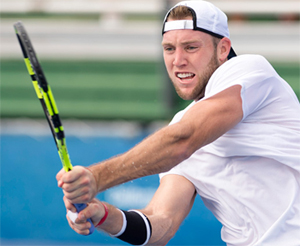 Sock
I've watched Jock Sock play since he was in the 14s. Now he is top 10. Massive forehand and a massive serve.
But like Raonic he has a terrible technical backhand. He can't hit 3 two-handers in a row rallying, and he uses a lot of slice on balls you'd think he would hit—if he was confident.
It's a similar problem to Milos. His body rotation is ahead of the shot. So he ends up blocking a lot of two handers or doing an awkward super short wiper.
He lost in the second round to Reilly Opelka. That guy is a story for another time—he may be taking shot velocity to a whole new level, not only his serve, but his forehand. Neither one of them is close to super mobile but Reilly hit a few more winners and made a few less errors. Big weapons for sure in Sock's game but too many limitations to get into the top 5, I am guessing.
Chung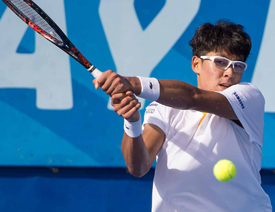 I didn't even notice Hyeon Chung was in the draw at Delray until his run to the Australian semifinal. I watched him practice and then come from behind to win in 3 sets in his first match. The guy's groundstrokes are probably close to as good as anyone. Fluid and powerful. A straight arm forehand and an explosive backhand. He can hit short and long, with great control of angles.
His movement is close to the same level as Djokovic at his best, Chung's idol. He is also a relentless fighter. In his first round at Delray he shook off a nervous first set to win in three.
But there is a huge gap between his ground game and his serve. His percentages are low. His first serve, when it does go in, isn't really a weapon, and his second serve is shaky, attackable--plus he hits some doubles.
He is only 20 and it's reported he made a major change in his forehand going to a less extreme grip in the last year. Maybe he'll make a similar serve change. More analysis of that serve to come!
Shapovalov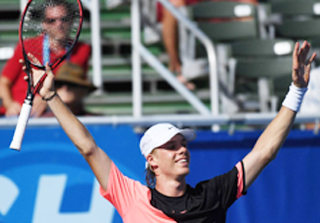 The fifth guy is the youngest, Denis Shapovalov, only 19, and he looked far and away the best overall, at least to me. First, the guy is solid in all aspects. Better than solid. His technique off the ground and the serve just have the look of potential greatness.
I love that one handed backhand that he hits freely and aggressively. He comes in and his volleys are natural.
He played Ivo Karlovic in the first round and returned beautifully. He hit some absolutely gorgeous passes and backhand half volleys for winners off the baseline.
He has a lot of enthusiasm. Very energized and positive on the court. He seems to like the big moments and play his best in them. I read Johnny Mac thinks he is a "great talent" and I agree.
Of the 5 guys I think he is the most likely to win a Slam and has the game to win several. Maybe it will come sooner than we think.
Jimmy Arias
Still another great thing that happened in Delray. I made friends with Jimmy Arias. I've always thought he and his partner Leif Shiras were knowledgeable, no bull shit commentators.
In excerpting Nick Bollettieri's autobiography, I also learned that Nick didn't teach Jimmy his forehand. Jimmy came to the academy with it, and Nick decided it was the forehand of the future. (Click Here.)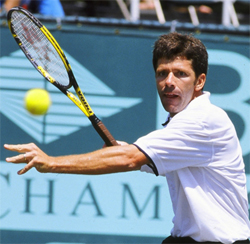 In his day, Jimmy overpowered players a half foot taller. How? Because his forehand was the first or among the first to have some of the key elements we now associate with the modern power forehand. Huge body turn. Outside compact backswing. Massive body rotation through the ball.
So I asked Jimmy and he agreed to let me film him and to do an article on his forehand for Tennisplayer. At age 50 something, his forehand still had all those elements and looked awesome. Compact, powerful, and reliable. Stay tuned for that article in an upcoming issue.
Obviously
So, obviously, I really loved the event. Get over there for the final if you are in the area.
I found myself wondering—what if I got a small house down here? Get a week or two a year at the beach and rent it out the rest of the time to pay the mortgage. Probably not in the cards but I never thought that way about Indian Wells or certainly Miami. As of right now my intention is to come back and maybe the event will come up with another field with as many interesting young players.