Memories of Indian Wells :
The Big 3, Or is that Big 4?

---
It may be recent history in the fast paced world of pro tennis--hey Key Biscayne is too! Nevertheless, I think a few personal reflections on our annual soujorn to Indian Wells are in order. To me it always looks different when you can see see it from up close--and here's what the final weekend looked like to me.
After an incredible week of filming in the desert, Indian Wells rolled into the Saturday men's semifinals, and I decided to stick around and concentrate on watching the "Big 3" duke it out. That would be Novak versus Rafa in one semi, and Roger versus somebody named Fish in the other.
The Big 3: Federer, Nadal, Djokovic, but who actually made it to the final?
It was a gorgeous warm still morning. I went out to the legendary Mission Hills Resort before the first semi to talk with Dennis Ralston (also legendary) about his new slice serve article in this issue. It's a jewel, by the way. (Click Here.) I always wondered why my wide slice in the deuce court sucked, and now I know. I actually hit the best one of my life later in the afternoon, right there on the Indian Wellspractice courts, but that's another story.
So after talking to Dennis, I was driving out to the Tennis Garden, listening to Cold Play on the ipod, breathing that gorgeous warm air, and feeling, I would venture to say, serene.
And thinking this is great! The sandstorms are over. There is no wind. It will be Roger versus either Djokovic or Nadal in the final Sunday. And it will now be my pleasure to see which one it will be --and hopefully figure out why.
Djokovic was basically able to rally Nadal to a stand off.
Although I've never made a bet on any sport in my life, I have to say the concept of online tennis betting intrigues me, because sometimes I get these feelings.
Before the Rafa/Djokovic match I told Matt Cronin of TennisReporters.net, watch this, it'll be Djokovic in straight sets. And he looked at me like I was friggin' crazy. Too bad I didn't get to BetFair on some offshore server. (Just kidding, I know, I know, it's illegal in the states.)
Click Here to read his first blog for us about Ana Ivanovic.
And yep, it was Novak 3 and 2. And maybe it wasn't even that close. It seemed shockingly routine. How you ask could that happen?
Well, many reasons, but let's start by considering the Jo-Willie factor. Nadal had an absolutely thrilling dogfight with Tsonga 2 rounds before. They split 2 tiebreak sets, and Nadal, from 2-5 down, ran it out in the third. It was pretty stirring.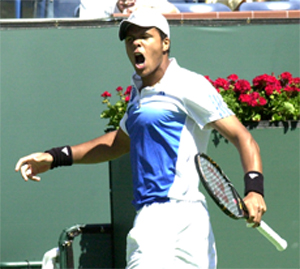 Will he make it the Big 4 instead?
The thing you notice most about Tsonga in person is that he is just huge. He dwarfs Nadal on the court. It's very strange visually, because you don't think of anyone being bigger than Nadal. But Tsonga is. And in my opinion, Tsonga could end up as the fourth, if there is ever such a thing as a Big 4. I'm talking about who could actually be The Boss--at least on a medium pace hard court like Indian Wells.
Who knows whether Jo-Willie will ever replicate his Australian success, but he hits the ball gigantically and is a superb athlete. Explosive, but with a lot of variety. Interestingly, like Federer, his forehand grip is much more conservative than Nadal's.
Nadal couldn't really match him when it came to pure horsepower, especially forehand versus forehand. But Nadal will out compete you and fight you to the death and bite your finger off if necessary to get to match point, and that's kinda what happened. It was a big, thrilling, exhausting win. Then--instant replay--he plays another tough 3 settter with Blake.
Meanwhile Djokovic is cruising and not losing a set. So maybe the difference in how they got to the semi mattered. But to me Djokovic's easy victory over Nadal was due to more than the simple fact that Rafa may have been emotionally spent. Djokovic, like Federer, is a much better athlete than people think. This is because he is so smooth and efficient you don't notice how well he is really moving. He is super fast. Compare that to Nadal where the effort rally shows.
The ability to stand in and play the ball earlier when he wants.
What also seems to separate Djokovic--again like Federer--is his ability to play up a little closer to the baseline when he wants to, to take the ball a little earlier, to force his opponents on time, and then hit very accurate, powerful winners when he has the opening. And there was some of that against Nadal at critical times.
But what really struck me was how he neturalized Nadal with defense. He basically rallied him to a stand off. I was watching where both players were playing, and in most of the exchanges they were both 3 to 6 feet off the baseline, most of the time. Novak was content to just match him ball for ball.
There were a few times where Djokovic forced the play too early and gave Rafa the opening to hit a counterpunching winner. But in the straight exchanges it seemed that there was almost no way for Rafa to win a point.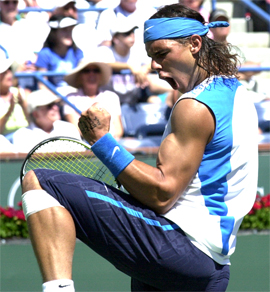 Yes he might bite your finger off.
Rafa had a lot of bad unforced errors, mainly on his forehand, and I think this was why. He couldn't counter punch and he couldn't find a way to really hurt Djokovic, and he got frustrated. Meanwhile, Novak was able to stick it to him at a few critical times. A lot of people are waiting for Rafa to make number one, but I think Novak is going to get there first.
As a side note, Rafa's charm remains undiminished with the fans. Our new still photographer Susan Kraft is in love with him--or as in love with a pro tennis player as a happily married woman can or should be. One of our attorneys is also absolutely nuts for him. (Also a woman.) And 12 year old girls especially love Rafa. I know because at the end of the day I was sitting in the hot tub at the Hyatt Grand Champions and had to listen to 3 of them--all junior players here to see the event with their parents--declare their personal love for Rafa.
But, despite the pain and the disappointment for Rafa and his fans, I'm still thinking, this is great! It would have been amazing to see Rafa play Roger in an important hard court match, but now it's going to be at least as interesting, if not more interesting, to see Novak try it again. Like everyone else, I wanted to see what might happen between these two guys after Djokovic's win over Roger in Australia.
130mph plus on the first, no problem.
Then this Fish guy screwed everything up. If you didn't watch it--and apparently it came on Fox Sports at 2am on the west coast--you have to be thinking, how could this happen? And that was basically the unspoken vibe in the stands as well. People didn't believe what they were seeing. And didn't want to. Mardy Fish defeats Roger Federer 6-3, 6-2. Huh?
Others may disagree, but to me the reality was it was almost all Mardy. Yeah Roger was not at a peak at the start and was trying to play his way into the match. He does that a lot. But this time he didn't really get the chance.
This guy Fish served every first serve at 130mph plus. He only got about 35% in but won virtually 100% of those points. But no worries, he served all huge second serves as well. He won over two thirds of those points, against the best returner in the world. Federer won only 13 points total on Fish's serve in the whole match. That's in 9 return games. He had one break point, unconverted.
Going for winners on every return.
But it wasn't just the serve. Mardy was going for winners on virtually every return and every groundstroke. And I mean virtually every one. He hit some of the most unbelievable flat angled forehand crosscourts I've ever seen. We know he has a great backhand, and he was hitting screaming winners both ways on that side too.
How well did he return? He actually won 45% of all the points on Federer's serve. He'd hit one unbelievable winner and you'd think, huh. Then he'd do it again.
You kept waiting for him to start missing, but he never did. We know Mardy is not exactly known for his foot speed or court coverage, but those factors never came into play.
I guess I wasn't really paying attention because Fish had some big wins on his way to the semi-final, beating both Hewitt and Nalbandian. I just expected him to be his streaky self and for Roger to take him apart. Yeah Roger might have played better than he did, but then again, he didn't play that badly. Mardy just never let him in the match, as preposterous as that may sound.
I decided to check out Roger's press conference after the match, even though I usually skip those events. I usually end up cringing at the tone of so many of the questions, and feel the players are more or less completely misunderstood by the writers, and often, disrespected as well.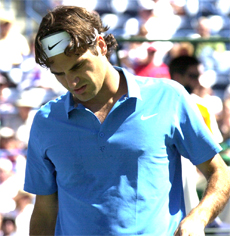 A major tragedy when Roger loses?
There is this unspoken assumption in the media that when Roger loses it's some moral tragedy, like it should never happen. It's a very strange, vibe. We have all these media observers, none of them athletes, most 20 or 30 years older than Roger. They masquerade as experts, as if they were Roger's peers. They put him down for being less than totally invincible. And they do it in this weird, holier than thou, passive aggressive way. It's inauthentic and creepy.
And in the face of this, Roger was so great. He looked thoroughly disappointed, but was stoic and completely polite. The best part was when one guy started asking how he could lose to the #98 player in the world. Roger cut him off and gave him a summary of Mardy's career, some of Mardy's big wins, his previous rankings in the top 20, how he beat Roddick previously in a Master's event that he should have won, etc.
"Let's not talk about #98. OK? We know Mardy is way better than that." Roger knew way more about the tour than the guy asking the question, that was obvious.
Roger also said he was surprised that this type of match hadn't happened to him more often over the last 5 years. There were just going to be times when one player dominated another, he said. That's reality in pro tennis, even for him. Not sure that his message got through to most of the people there (in fact I'm sure that it didn't), but to me it was humble, honest and real. Roger just seems like such an admirable person. OK, I admit I'm a fan of the guy.
Could Fish stay in the trees against Djokovic?
So Fish was better than people gave him credit for, including me. He was definitely "in the tree" against Roger, as we used to say in the juniors. But would he fall out and hit the ground hard against Novak? Personally I had to believe he would. My impression was he might start hot again, but that Novak would inevitably get him, even if it took a while.
That was basically what happened. Except Mardy didn't start hot. He was much more tentative than against Roger, looping the ball in some exchanges, something he didn't do at all versus Roger. He hit some winners and made some really bad errors. It was very uneven and more like the Mardy Fish we've all observed over the years.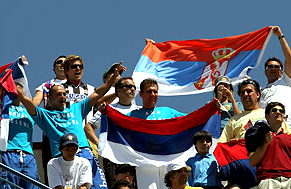 Fervor and flags from the Serbian fans.
The most interesting aspect of the match was the atmosphere with the spectators. The Serbian tennis fans are truly great. There were a few dozen of them up in the upper deck and they had multiple Serbian flags, plus banners with giant pictures of Jankovic and Ivanovic as well as Djokovic. They stood up for virtually the entire match, cheering and holding those flags.
Meanwhile the bulk of the fans were pro Mardy. So there was almost a faux Davis Cup atmosphere. The retired desert Americans and tennis tourists hoping Mardy Fish could secure a victory for all of us. To me it was weird, because it's hard to imagine rooting for Mardy Fish against Novak Djokovic, but hey it's a free country.
And give Mardy credit. After losing the first he fought like an animal and got back into the match and won the second, 7-5. That made it seem dramatic, although that was another a bet I would have liked to get down--on Djokovic to win. In the end, inevitability prevailed. Djokovic, 3 in the third.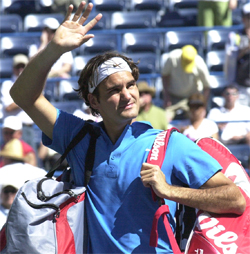 Goodbye to our hero? Doubtful.
So is Federer now on the way down? Well, I don't think he'll win another 12 Grand Slam titles. However--continuing on the betting theme--give me a piece of him winning 14 and then breaking Pete's record.
Could Djokovic supplant him at number one this year? Possibly. And if not this year, soon. Will Mardy Fish claw his way back into the top 20? Yes, but only if he keeps playing the way he played at IW and I wouldn't want to bet on that one.
So a chance to see 2 of the Big 3 clash in the final was lost. But it was still a great, great tourney and a great experience in the desert. Even though Roger caused me a lot of pain and ruined my Saturday euphoria, I can't really bitch too much, and I still love him the most. I just hope to be back next year and see him, and more of the great tennis witnessed this year. Yes it can truly be tough at times, working here at Tennisplayer.net.
---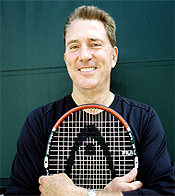 John Yandell is widely acknowledged as one of the leading videographers and students of the modern game of professional tennis. His high speed filming for Advanced Tennis and Tennisplayer have provided new visual resources that have changed the way the game is studied and understood by both players and coaches. He has done personal video analysis for hundreds of high level competitive players, including Justine Henin-Hardenne, Taylor Dent and John McEnroe, among others. In addition to his role as Editor of Tennisplayer he is the author of the critically acclaimed book Visual Tennis. The John Yandell Tennis School is located in San Francisco, California.
---
Let's Talk About this Article!

Share Your Thoughts with our Subscribers and Authors!

Click Here
---
Contact Tennisplayer directly: jyandell@tennisplayer.net
---
Copyright Tennisplayer 2005. All Rights Reserved.