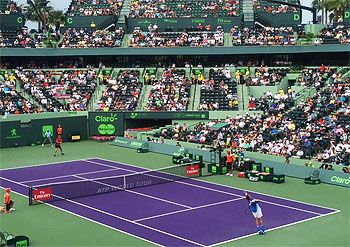 Really glad to have spent over a week at the Miami Open! Especially as the guest of Tennisplayer writer, noted Boca Raton tennis director, and bon vivant Kyle LaCroix. And more on that below, and why. But Miami couldn't be much more different than Indian Wells. No I mean literally it couldn't.
Even the people at IMG who own the tournament admit that Larry Ellison is kicking their ass. Every year more technology and better gardening in the desert.
Meanwhile the politics of Key Biscayne are keeping the Miami Open from making any upgrades, even small ones. There was some kind of public referendum in favor of improvements and that is now somehow blocked by a judge who apparently hates the event.
But if my sources, who will remain nameless, can be believed the tournament isn't going anywhere--despite the constant rumors that it is moving to South America or to Orlando or to China. Meanwhile the tournament is what is it--right there in Crandon Park, a public facility 50 weeks a year, on that narrow causeway on the way to the happy village of Key Biscayne.
And I can see why the people in the village aren't actually happy. I've been in traffic in New York and LA and Seattle, and I can state conclusively that when it comes to congestion Miami takes it up an exponent. In fact there may even be some weird mass suicidal subconscious highway driving thing going on here.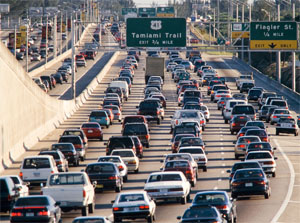 Bumper to bumper on Interstate 95 is routine and when you try to make that left turn to go over the bridge to the tournament? My longest interval was 45 minutes for those last 5 miles. If you were a nice 90 year old retiree living on Key Biscayne minding your own business and having a heart attack you would have cause to fear your trip to a Miami hospital.
On one memorable round trip from Boca where Kyle lives to Miami and back, I saw the aftermath of a big rig overturn, two high speed rear end collisions, two mere fender benders--and the crowning experience--it took over 2 hours to go three miles because of another accident that closed 4 lanes.
The weird thing was when I got to the accident there were only smiling highway workers standing around next to the cones that were closing the four lanes. The crashed cars were gone. I am thinking they enjoyed the control.
Because of that I missed a dinner with a dear old friend. But at least I wasn't a crash victim myself because when the highway is actually open people like to tailgate at 85mph and also love swerving from lane to lane to improve their position when they come to the next dead stop.
Meanwhile at the tournament, everything on the grounds is a little beat up around the edges, or more than a little. The main stadium looks great on TV and it is nice, but when you walk around, you find puddles of funny smelling water. Beat up landscaping and random temporary chain link fence. The rest of all the seating is temporary. No Nobu restaurant on the grandstand...Not to mention the temporary bathrooms with really long lines.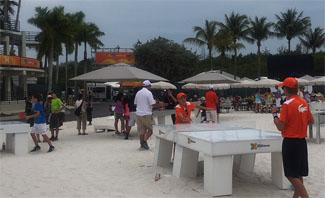 You also can't begin to compare the media facilities--the seating or the electronics, or frankly the attitude of the staff. Or the food. Indian Wells you get roasted meats and grilled vegetables, paninis, a pasta bar. All day everyday. Unlimited free diet coke in the media room and bagels and donuts. (Watch out!) And you get to eat with the players.
In Miami it's pre-made cold sandwiches and a little salad in a corner of the third level. One dinner entree that starts at 5pm. No players, just boring, slightly depressed looking media people.
But there is one media tradition at Miami that Indian Wells doesn't have--a free bar for an hour with wine and beer, and everyone gets a lot more animated then, I have noticed. I know a writer who had his credential revoked a few years ago after over serving himself for a few days running at that event.
But to strike a positive note, the crowds are far more interesting and lively than Indian Wells. You hear Spanish and Italian more than English and a lot of French and Japanese as well. Indian Wells is old and white to a significant extent--and the younger influx is equally, significantly white. Not so in Miami.
There are young families and kids running everywhere. (Watch Out!) They are playing soccer in the beat up grassy areas and they have their own giant sandbox.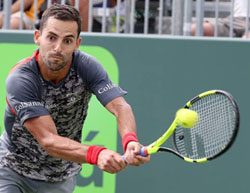 And then there is cultural pride. The fans are more like world cup soccer fans. I happened by an outside court after a South American player won a late afternoon 3 setter and I couldn't understand what all the shouting was about. The guy was surrounded by like 6 "Player Escorts," young guys in red shirts, and there were about 50 people following, shouting, pushing trying to get at the guy--and they were happy.
They either wanted an autograph or maybe to give him a hug. The player meanwhile was shouting too and making fists in the air. Impressive and/or scary enthusiasm, you decide.
And beyond cultural analysis, what about the actual tennis? That's why I came down here right? Yes, sure. At first it looked liked Miami caught a huge Roger Federer break.
After his knee surgery he skipped Indian Wells and signed up for Miami, instead of the other way around, the way it was the last two years.
Friday of the first week, the event sold out in anticipation of Roger's first round match against an unseeded Juan Martin Del Potro. Then Roger withdrew the morning of the match.
Stomach flu. And let's hope it was that and not his knee. And how is the knee? I caught part of an interview in which Roger was saying he was actually enjoying the three times a day rehab.
And then, after Roger, the rest of the stars started to lose or get sick. Nadal, Serena, Andy Murray, Isner. Man it is hot and wet out on those courts. But everywhere you looked it was still world class tennis--that unmistakable electrical buzz.
As always, watching practice is often more interesting than the matches. I decided to check out Alexander Zverev. I watched most of three practices. Justin Gimelstob and others have anointed him as the potential next number one player.
I will have to echo the thoughts of Kyle LaCroix. You watch somebody crush the ball like that and you wonder how they could possibly lose to anyone. I mean the velocity on his serve and forehand seem superhuman. Then he loses in straight sets to Stevie Johnson.
I got the same feeling watching Nick Krygios and Marin Cilic--the balls they hit seem unplayable. But then Cilic goes out and loses to Giles Simon.
And Krygios? In practice he started a bitch fight making comments back and forth with some civilian. I just don't see championships in the future for him. But his game? Not even he knows how big that could end up being.
Zverev's dad is his coach and one thing they did was interesting. They worked a lot on moving forward to the net before striking the ball. Instead of standing at the net and just hitting volleys, Zverev has to move to the ball from the backcourt, hit an approach, gather himself, split, and then volley. It's realistic and the way everyone at every level should practice--my opinion.
My favorite young player though, was and is Dominic Thiem. Watched him practice and yes will have more footage of him. He looked damn good against Novak didn't he?
Love his coach Gunter Bresnik too. Tremendous intelligence and a very sardonic sense of humor. Had a chance to talk to him and about Dominic's game--and showed him some serve footage. More on that later. (Click Here to see the interview we did at Indian Wells a couple of years ago.)
And how about my quest to find Amelie Mauresmo and make that one critical adjustment on Andy's serve? More internal arm and hand rotation. (Click Here to read about the reason Andy hits 80mph second serves.)
Tantalizing. She told me she wanted to see the footage, "Why not?" But then put me off three other times. I finally ended up leaving her some clips on a thumb drive and a note explaining what it showed.
The funny thing was I had a clip of Amelie from 2005 rotating more than Andy. I thought that might peek her interest and maybe she would find it amusing. But she didn't seem to get it. "It's too late for me," she said. Huh?
Meanwhile back at Kyle's club there were a couple of players who were more receptive to analysis. Kyle and I had a great session with Ingrid Neel an American junior with a top hundred ITF ranking, a serve and volley player who is actually moving to New York to work with the king of serve and volley, John McEnroe. I even got a phone call from John to talk about it.
And remember that video of Kyle's forehand in the Forum which inspired much analysis and commentary? (Click Here). Well, I've got my own take on that now. We put an actual high speed camera on it and looked at it frame by frame. And then Kyle and I did some work that I think will be huge for him.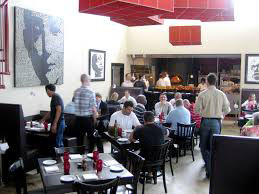 Kyle was quite surprised at what the high speed video actually showed. And yeah, I don't have a high opinion of conventional video. More to come on that in Your Strokes.
And finally, what of my other quest--for Joe's Stone Crab? Somehow it didn't happen. Instead we ended up having what was probably a far better experience at Michael's Genuine-- at Kyle's insistence. It's in the latest trendy area--the Miami design district.
If you get the chance to go to dinner with Kyle, by the way, jump on it. He likes to start with about 6 appetizer courses.
So Miami overall? Loved it. Despite negatives, highly recommended and I hope to go back next year. When you go, just try to stay a little closer to the event than Boca.