The Osmosis Clinic:
Indian Wells 2007

---
Has it really been 8 years since our first voyage to that tennis oasis called Indian Wells?
He's happy here, but why did he scream at me on center court?
We've seen this amazing event grow every year, but it's still the best place in the world to see the game's top players, and especially future top players, from point blank range. Not to mention the gorgeous environment, including the Tennis Garden itself, and the stark and monochromatic surrounding desert expanse. Not to mention the hotels, restaurants, celebrity encounters, and various other spontaneous adventures.
Like the time Tim Henman screamed at me on center court for changing my filming position between points. (I agreed to stay still.) Or when our digital still photographer, J.Gregory Swendsen, held the door into the media center for Anna Kournikova, and she turned and curtsied to him (or so he claims). Or the time videographer Giancarlo Andreani was able to replicate (down to the spices on his filet mignon) the exact meal consumed the previous night by his personal idol Andre Agassi at a famous desert steak house.
And last year we went all out with the fabulous Osmosis Clinic. It was a great group, a great hotel, and a great experience--something we plan to repeat in 2009. Which brings us to another cool thing about this year, our new relationship with Tennis magazine, and the chance to expand our filming and marketing opportunities. Sure, you're an early adopter, but don't you want everyone else in the tennis world to experience the joys of Tennisplayer??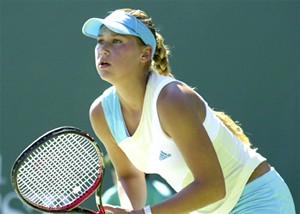 Did she really curtsy to J. Gregory Swendsen?
So I probably can't say anything else more positive to entice you to visit the event, but this year we'll let some other people try. I've assigned our film crew, under the wily direction of our chief technical editor, Aaron Martinez, to interview various interesting people around the grounds and see what they have to say about the event, tennis, life, or whatever else is on their minds.
I don't mean Rafael Nadal--ok you never know maybe we'll get him too. I'm thinking of the various coaches, reporters, media moguls, teaching pros, insane fans, and other characters we've gotten to know over the years. We'll be putting up clips of these interview/encounters, and possibly other spontaneous events of interest throughout our stay.
So stay tuned!
---

John Yandell is widely acknowledged as one of the leading videographers and students of the modern game of professional tennis. His high speed filming for Advanced Tennis and Tennisplayer have provided new visual resources that have changed the way the game is studied and understood by both players and coaches. He has done personal video analysis for hundreds of high level competitive players, including Justine Henin-Hardenne, Taylor Dent and John McEnroe, among others. In addition to his role as Editor of Tennisplayer he is the author of the critically acclaimed book Visual Tennis. The John Yandell Tennis School is located in San Francisco, California.
---
Let's Talk About this Article!

Share Your Thoughts with our Subscribers and Authors!

Click Here
---
Contact Tennisplayer directly: jyandell@tennisplayer.net
---
Copyright Tennisplayer 2005. All Rights Reserved.