Adventures in Zagreb

---
By the time you read this, the staff of Tennisplayer (ok that means myself and Technical Editor Aaron Martinez) will be winging our way Zagreb, Croatia. And there is a reason.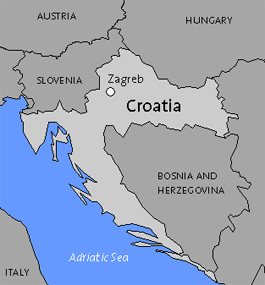 Part of the former Yugoslavia, right across the Adriatic from Italy.
No, not the vacation we both need and deserve. There is a fantastic ATP indoor event there. It's called the Zagreb Indoor, and it's a perfect opportunity to see and film over a dozen young players--you know the ones you email us about, asking to see in the Stroke Archive. (And yeah some of you probably consider that a vacation, and ok it is.)
You can check out the tournament site here. (Click Here.)
Be honest now, did you realize that Zagreb was the capital of Croatia? Or even that it was even in Croatia?
The one thing you probably did know was that Goran Ivanisevic and Ivan Ljubicic and Mario Ancic are all Croatian and that they won the Davis Cup two years ago and that the win was a huge source of national pride--not to mention a week long party that reportedly put all Super Bowl celebrations to shame. (Ironically, the final of the Zagreb Indoor is on Super Bowl Sunday.)
Personally I knew Croatia won the Davis cup but to be honest I was exactly sure where Croatia was, except that it was somewhere in Eastern Europe. If you are in the same boat I was, think of Italy and visualize the eastern coast or the back side of the boot, which faces the Adriatic Sea. Now travel across the Adriatic and you land in Croatia.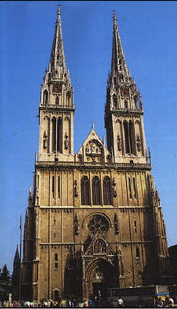 The Cathedral is most famous building in Zagreb with contstruction dating back to the 13th century.
If you don't remember Croatia from your geography class in junior high school, that;s probably because it's only been around in the modern era for about 10 years. During the Cold War, Croatia was part of the old eastern Communist block country called Yugoslavia.
But the history of the Croats as a people goes back to Roman times in the 7th century, and they have always maintained a strong sense of ethnic and national identity. And correct, they didn't get along very well with the Serbs, another of the main ethnic groups arbitrarily combined in the old Yugoslavia.
And correct again, the Croatians and the Serbians still don't get along that well, if you followed the clash of tennis spectators from the respective countries at this year's Australian Open. There was a bloody civil war from 1991 to 1995 and one of the results (among others) was the creation of the independent nations of Serbia and Croatia.
But enough with the historical background. Aaron and I do plan to get out and see the great cathedral and at least some the rest of Zagreb (even if the average temperature is 0 degrees Celsius in February). Mostly we are going to be right there at the indoor arena, filming young players like Marcos Bagdathis and Andy Murray and Fernando Verdasco, as well as some players who have been around but escaped us over the years.
The number one name among those is Ivan Lubicic. He's the defending champion, and the man with the backhand everyone wants to study. So let's hope he's recovered from that loss in Australia and ready to win a few matches. (More on ths later.)
Ivan Ljubicic

Andy Murray

Joachim Johannson

Fernando Verdasco

Fabrice Santoro

Nicolas Almagro

Marin Cilic

Robin Soderling

Marcos Bagdatis

Thomas Johannson

Mikhail Youzhny

Daniele Bracciali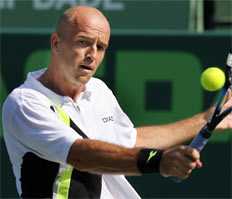 Recovered from Australia and ready to defend?
Actually this is our second filming foray in Croatia. Last summer, Giancarlo Andreani, filmed our clay court footage at the outdoor tournament in the seaside resort of Umag. According to Giancarlo, they love tennis in Croatia and the nightlife is world-class. Me, I'm sticking to the tennis, but we may add an update on the other front from Mr. Martinez.
We get a lot of requests about certain players and maybe this is a good time to explain a little more who we target for the Stroke Archive and how we get them. For one thing, we can't film players who aren't still playing. I get a lot of requests for Stefan Edberg and Steffi Graf, but the cameras we use didn't even exist when they were still on tour.
And every time a less known player has a big win, we get a few emails wanting to see so and so's forehand or serve. And sometimes I'm in the process of developing them already. To really get a comprehensive portrait of a player's game, I like to film them at least 3 if not 4 times or more.
Some of the other interesting players on the list.
Why? First because certain venues allow us to film certain angles and not others. I like the depth of perspective that comes from looking at the players from all sides, and we work pretty hard to get that.
The second reason is that courts and opponent's are different. Player's hit different shots and use different tactics in various circumstances. Different opponent's give players different speeds, spins, and ball heights, and dictate different court positions.
And all that varies with surface too--even from one hard court to the next. One year at Indian Wells when the courts were a little slower, Tim Henman played 2 matches and basically never served and volleys.
And there are the intangibles. Sometimes players just play better or worse or with more or less effort and/or enthusiasm. So multiple matches have a better chance of giving us an accurate view of the player's range of shots.
Our co-tournament director Goran Ivanisevic, showing good judgment in wild cards.
The other factor is logisitical. Let's say we are at Indian Wells, and there are 6 players we are interested in playing at the same time. Or two we want are playing each other. So we make choices. Then one or more of the players we want lose and are gone.
So that should be one of the great things about Zagreb. A great field and all the matches played one at a time on a stadium court in an indoor arena. Let's hope not too many of the most interesting ones play each other too early. We already have Co-Tournament director Goran Ivanisevic to thank for giving Marcos Bagdathis a wild card. We'll just pray everyone is healthy, shows up, and plays great. I have no doubt though we'll come back with more incredible resources for Tennisplayer.
---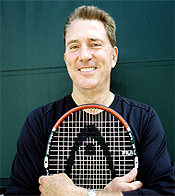 John Yandell is widely acknowledged as one of the leading videographers and students of the modern game of professional tennis. His high speed filming for Advanced Tennis and Tennisplayer have provided new visual resources that have changed the way the game is studied and understood by both players and coaches. He has done personal video analysis for hundreds of high level competitive players, including Justine Henin-Hardenne, Taylor Dent and John McEnroe, among others. In addition to his role as Editor of Tennisplayer he is the author of the critically acclaimed book Visual Tennis. The John Yandell Tennis School is located in San Francisco, California.
---
Let's Talk About this Article!

Share Your Thoughts with our Subscribers and Authors!

Click Here
---
Contact Tennisplayer directly: jyandell@tennisplayer.net
---
Copyright Tennisplayer 2005. All Rights Reserved.