Farewell to Zagreb

---
One squeak and one cake walk into the final.
So the final is all set! Marcos Baghdatis versus "Luba" as the crowd calls Ivan Ljubicic when they do this rhythmic chanting thing.
Baghdatis routined Alexander Peya 6-4, 6-2 in the first semi. Peya served and volleyed and I got a few of those rare sequences on film, but basically he gave up the tactic (and all hope) by the second set as Baghdatis discouraged him with his returns and passes, and smoking groundstroke winners.
Now the quarterfinal the night before was another story. Marcos ended up needing everything he had to just barely squeak by Arnaud Clement in a breaker in the third. Bagdhatis won the first set easily and served for it in the second, but tightened up a little bit and made a couple of loose errors to let Clement back in at 5-5. From then on it was like Clement was a different player, doggedly fighting for every ball and matching Marcos toe to toe.
Clement has an unorthodox breathing style that is quite unpleasant. He exhales loudly well after he hits, and then strangely again as the ball is traveling back toward him. It's loud enough to hear in the entire arena and sounds like he is laboring hard doing something you don't want to think about. It gets on your nerves, and, with respects to Scott Murphy who is not a fan of "Shriekapova" as he calls her, given the choice, I'll take listening to Maria anyday.
Political scrutiny for home town hero "Luba," first the (Left)President then the
(Right)Prime Minister.
Irregardless, it was anyone's match until the third set breaker and that's where Marcos showed he does have that something that sets the top players apart. People think he's fat and out of shape. But when he pulls his shirt up he's actually trim and cut, and the guy can run all day. He just may not have the body type of Rafael Nadal or Roger Federer. With his legs appearing somewhat short for his torso, people may get the wrong idea about the type of athlete he is.
Regardless of body style, he has the crunch time magic. In that third set breaker, he hit one of the most searing forehand topspin lobs I've ever seen. Clement literally was frozen--never even flinched. He hit a couple of very decisive 125mph first serve winners. And then a huge, perfect, deep crosscourt backhand. Clement couldn't pick it up to match him, and so Marcos escaped and then cruised into the final.
Luba's quarterfinal match with Johannson was actually even closer and his win in the third set seemed quite improbable. They put the pressure on the guy that's for sure. The President of the country, Stjepan Mesic, showed up and sat in the third row baseline with 4 or 5 minister types, watching very intently with his arms folded, and not smiling too much.
Did the crowds really understand what they were seeing?
Not that he seems like a super happy guy, but still, that's got to be a type of pressure not too many players ever feel. Wasn't it Andy Roddick who took an "L" at the Open a few years back when Bill Clinton showed up?
And then there was the problem of Thomas Johansson. After their victories the night before, the two of them were in the press room together and Thomas greeted him with some expression in Swedish that sounded somewhere between a friendly hello and a Viking war cry. You got the feeling he was ready to play and he was.
Johansson served very well and for the most part stayed right with Ljubicic's huge groundies on the baseline, drawing quite a few errors when Ivan tried to end points with shots he tried to make a little too good out of seeming frustration with the evenness of the exchanges.
Ljubicic hit 5 double faults, but more than balanced that with 28 aces and a lot of other unreturnable serves, and somehow this kept him alive.
By the second set though Ivan's movement didn't look as fluid and you felt he was just hanging on when Johansson won the breaker to take it to three. It looked like the end had really arrived at 3-4, when Ljubicic got down 0-40 on his serve. But incredibly he hit 3 aces to get back in and eventually win the game, with the set then going on autopilot toward an inevitable breaker.
Big serving at the right times, again and again.
In the end Luba held up better there. Thomas had a bad backhand error early in the breaker, and stood there thinking about it and starring at his strings for a long time. He'd never actually beaten Ljubicic, and you got the feeling that suddenly he knew it was going to be the same this time. The final breaker score was 7-4, and you might have thought Luba would have shown some exhilaration, but it was the same weary and maybe somewhat relieved smile, and that was all.
Then against Youzhny it looked like his luck had run out for sure. Yesterday they sent the President, today they sent the Prime Minister, Ivo Sanader. For the final both of them and maybe Tony Kukoc (national hero and former Chicago Bull) by chance just to crank it up a notch?
Anyway, Mikhail had been playing clean, aggressive baseline tennis, taking the ball early and ripping off both sides. Luba looked weary in the first set and Youzhny just took it to him, 6-2.
Yet somehow it all turned around in the middle of the second. Youzhny got up a break to go up 4-2, but immediately gave the break back right back. A few big serves, a couple Youzhny errors and suddenly, it's set number three.
And it was another miracle finish. This guy is superman and I don't think the crowd really knows what they've been seeing. It was like they expected it and didn't comprehend how what happened was improbable or nearly impossible in the course of most matches between players at this level.
So here is what happens next. They get all the way out to 4-5, with Luba serving at 30all. He hits a fault and a weak second serve and Youzhny drills a backhand that lands inside the line. But the Croatian linesman calls it out. The chair overrules. But now Luba has another first serve. He immediately hits an unreturnable first serve. Then he hits another to hold and get to 5-5. It happened really fast, but it was such an obvious turning point.
So Youzhny goes from sitting on the edge of a match point to having to serve to again just to stay in a match that looks like it could have been his at many points along the way.
Great ball striking but an eventual mental collapse.
And that was it. Youzhny had looked amazingly fresh and positive to that point. I say amazingly considering his evening training habits in the clubs and at the players' parties, as reported by our observer, Aaron "The Zagreb Playboy" Martinez.
But now the crowd started to get to him. He inisisted on quiet before serving, something that hadn't happened consistently the whole match. He missed a couple of routine balls, then Luba came in and hit a very casual looking drop volley winner. A double fault finished the mental collapse.
Of course Superman has to still had to serve it out. Which he did in 4 points. So in the final, you've got to think his luck would run out. But Baghdatis has had his share of close escapes too, so who knows? Maybe someone will take charge and clock the other in straight sets--or it'll be another tortuous 3 set breaker in the third. What I'm saying is I have no friggin' idea, cause I was pretty sure Youzhny would get him today.
Because the semifinals didn't start til 2pm, I took the morning to drive up to the top of the mountains on the edge of Zagreb. Or actually the incredibly great tournament staff found a driver who was happy to take me up there, on his birthday no less.
The views and the fortress--the final Zagreb tour. (Click Photo)

There is a fortress that was used to defend the city in medieval times from the dreaded Turkish invaders. If you have an interest in ancient history as I do, it's easy to imagine people being shot with arrows or speared or killed with swords, when you look either up or down from the beautiful ancient walls. The most beautiful small gorgeous chapel inside. And you can imagine why prayer would have been a popular pastime when you see the whole configuration.
At the very top there are some ski runs, a a mountain chalet style hotel and restaurants. The view is a stunning 360. On the other side you can look down on what appears to be idyllic eastern European farming life.
On the way up and down we got a look at some of the old, elegant homes in upper Zagreb. A little ragged around the edges in most cases, but charming and inviting. I think this city would actually be quite easy to live in. According to my driver, a large 2 bedroom apartment in a remodeled building goes for about 500 American dollars.
So everyone in Zagreb will be watching the final on Sunday. And everyone in America will be watching the Super Bowl. Me, I'll be on an airplane headed back to San Francisco, and I probably won't know who won either until after we land. (OK the pilot will probably be a fan and announce the Super Bowl score.)
It's been a long, beautiful week. Thanks to the magic of Tivo, I plan to watch the Bears and the Colts from the comfort of my stressless recliner. It's the first Super Bowl, going back to Super Bowl I, before they called it the Super Bowl, that I haven't actually seen live. So I'm going to watch it even if I know who won and it's a 42-0 blowout. But last time I checked, ESPN2 wasn't broadcasting the Zagreb Indoor. Too bad. I'll have to read someone else's account of what happened there.
---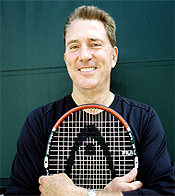 John Yandell is widely acknowledged as one of the leading videographers and students of the modern game of professional tennis. His high speed filming for Advanced Tennis and Tennisplayer have provided new visual resources that have changed the way the game is studied and understood by both players and coaches. He has done personal video analysis for hundreds of high level competitive players, including Justine Henin-Hardenne, Taylor Dent and John McEnroe, among others. In addition to his role as Editor of Tennisplayer he is the author of the critically acclaimed book Visual Tennis. The John Yandell Tennis School is located in San Francisco, California.
---
Let's Talk About this Article!

Share Your Thoughts with our Subscribers and Authors!

Click Here
---
Contact Tennisplayer directly: jyandell@tennisplayer.net
---
Copyright Tennisplayer 2005. All Rights Reserved.