<!- InstanceBeginEditable name="mainContent" ->
Inside The Mind of
Goran Ivaniesvic
---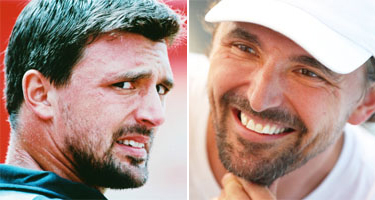 You'll always have some negative thoughts and conflict in your head. I had a good Goran and a Bad Goran. Bad Goran was influenced by the people around him, by the court, and he wanted to fight with everybody, and he wanted to leave the court.
Good Goran said to Bad Goran, Come on, it's not over yet, let's fight. It was a little chit-chat in my head. It was between points, and then sitting on my chair between games. You have to call 911 and you need the emergency voice to say to the bad voice, come on, be good, let's play.
The problem is in tennis is that everything goes so quickly in your head, from good to bad, from bad to good. Whatever you do, you have to make a quick decision, and hopefully it will be a good decision. And hopefully whatever you're thinking at that moment will be for the best.
Click Here
---
| | |
| --- | --- |
| | Mark Hodgkinson is a tennis journalist and author based in London. Formerly the tennis correspondent for The Daily Telegraph, he has written biographies of Andy Murray and Ivan Lendl. An editor for TheTennisSpace.com, he has also written for GQ, the official programs of Wimbledon and the Barclay's ATP World Tour Finals and the BBC. Click Here to write to him at The Tennis Space! |
---
Game, Set and Match

Game, Set and Match is the unprecedented collection of tennis tips from over 30 of the game's superstars, legends, and tour coaches including Andy Murray, Milos Raonic, Grigor Dimitrov, Bob and Mike Bryan, Serena and Venus Williams, Maria Sharapova, Pete Sampras, Stefan Edberg, Paul Annacone, Toni Nadal, Boris Becker, Robert Lansdorp and many others. Covering every aspect of the game, this book is a fascinating, insightful, and invaluable resource for tennis players worldwide.
---
Let's Talk About this Article!

Share Your Thoughts with our Subscribers and Authors!

Click Here