Medvedev:
Unusual Way to the Top
Matt Cronin
---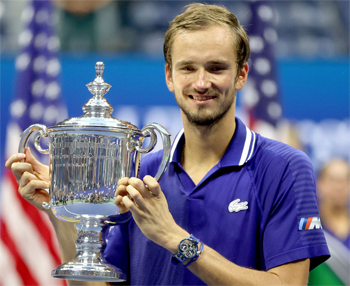 There was a time a few years ago Daniil Medvedev couldn't find a solution for his game. The 25-year-old Russian is 6' 6" and no player that tall had won a Grand Slam -- until he did it a couple of months ago at the US Open.
Like a lot of tall players, he could hit the ball big and play offense. But unlike a lot of tall players, he could also run and play defense. He had loose, unorthodox swings, sending the ball low and flat across the court.
It was hard for him to understand the way he should play in today's game, where players like Rafael Nadal and Novak Djokovic dominated by winning long baseline rallies and others occasionally broke through with big-serving, first-strike performances.
Slowly, though, the clever, dogged Medvedev, who moved to Paris to train in 2017, began to find the answers. He started to combine different strategies, using his height to his advantage when serving, getting a lot of free points to hold often and easily.
Want to study the rest of this article?
Click Here
to Subscribe!