Federer: The Last Man Standing?
Matt Cronin
---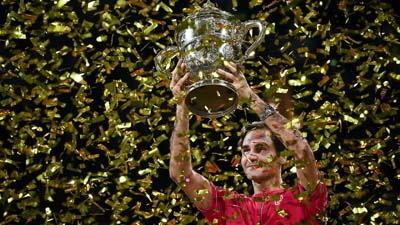 Roger Federer is 38 and still winning. His title collection started in 2001 at Milan and having won another in his hometown of Basel, he has now collected 103 ATP titles, almost unheard of. By comparison, Rafael Nadal has 84 and Novak Djokovic has 77.
The American, Jimmy Connors, won 109 titles, the record. Connors won his last title in 1989 in Tel Aviv. He was 37 years old. So it's possible that Federer could reach or exceed that total. The number of total titles should definitely be a factor in the never ending debate about the greatest player of all time.
Unfortunately, Federer lost at the 2019 ATP Finals in London, going down versus Stefanos Tsitsipas in the semis in straight sets. The young Greek is coming up, while Federer is stable, but you cannot win titles week after week. Impossible.
In 2020, Federer will very be enthusiastic, but at the same time, when he loses, he can look at the ground and shake his head. They all do.
However, Federer isn't winding down. The great champion from Switzerland is incredibly intelligent, and perhaps he will keep playing into his 40s. Maybe.
But he isn't still this good by accident. Federer can't do everything like he used to, but in other ways, has become better and better, year after year. He's had to switch it up, and to re think what his game is and change his playing schedule.
Federer has won 20 Grand Slams, more than any player in the men's game, but Rafa Nadal and Novak Djokovic are closing in. Nadal has 19 Grand Slams, and Djokovic has won 16. They are also younger, but it's also possible that both of them could experience an injury and then maybe have to retire.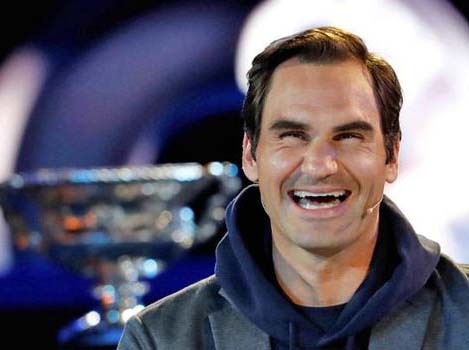 The same thing goes with Federer. If he finally gets hurt, and has to stop for months, then perhaps he will have to wave goodbye.
But since he started on the ATP back in 1998, he has been very healthy. Yes, once in a while he gets hurt with his recurring back problems or the more serious knee surgery in 2016, but that is rare by comparison. Other top-fivers, Slam winners, can be done for months -- Nadal, Andy Murray, Stan Wawrinka and Juan Martin del Potro.
Having played on court for two decades, and winning, month after month, Federer has also got a lot of fans. Yes, they like to listen to him talk, at the tournament, on TV, or on radio -- he can be funny, or serious, or just plain intelligent. He loves to laugh.
But on court, when he is playing matches, then he is serious. Extremely serious. His determination to finish his matches in Australia regardless of injury shows that.
And it's not listening to what he says that the fans really want. What they want is to watch him -- when he sprints, where he will blast his first serves into the corners, hits those gorgeous slices, blasts forehand winners.
When he is returning, he can hit it deep, or slice it low. The point begins, and there is a hush to see what he produces. His forehand is his favorite shot -- he can go crosscourt, inside out, or down the line, or inside in. He can drop shot and put the ball away at the net.
His backhand has improved a lot, starting two years ago. And that has paid off. It used to be that Nadal would send his heavy topspin forehand into Federer's backhand, constantly, until he went way back in the court and he couldn't do anything with it.
That is why the Spaniard has beaten him so many times, knowing that he can break him down. He did it, especially on clay, especially at Roland Garros, and more and more often on hardcourts, winning more than two-thirds of their meetings.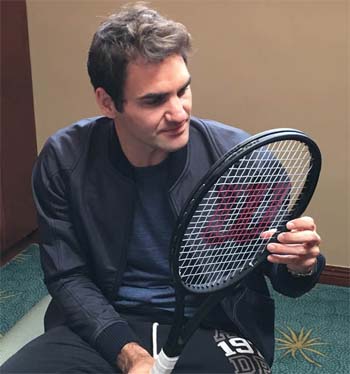 At the 2017 Australian Open, Federer finally made a change, going to a 100 square inch frame. He positioned himself forward, with his one handed backhand, so he could hit through the ball hard before goes up above his shoulder. According to ATP stats he added several average mphs to his backhand speed.
At the time he said: "I think with the new racket I was able to swing through the backhand a bit more freely. I did that the entire tournament you know and I think the racket allowed me to do that and I gained confidence."
Federer beat Nadal in five sets, almost shocked him, and he was incredibly happy. Since then, he's won five in a row against Nadal, until the 2019 French Open, and the Spaniard cracked him in three sets, pretty easily. Fortunately, Federer out thought him at Wimbledon, on the low grass.
When he won at the 2017 Australian Open, Federer had not won a Grand Slam in five years. His previous win was on grass at Wimbledon, when he grabbed it in 2012, but after that, Nadal and Djokovic and even Murray and Wawrinka, overcame him.
Now after his semifinal loss at the 2020 Australian Open, he hasn't won a Slam in three years. Can he win one again on the hardcourts? Or maybe the grass is his only real chance?
Regardless, Federer has racked up 103 titles, and he is still standing. Federer has six more to win to tie Connors. In my view this is probably what he really wants to do.