The Return of the One-Hander
Matt Cronin
---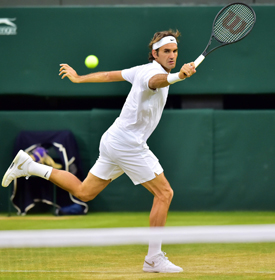 It wasn't long ago that people thought the one-handed backhand was vanishing in tennis. When Roger Federer won his first major at Wimbledon, back in 2003, it seemed like an aberration. Since then, he's gone on to win 20 Slams, and led a renaissance for the one-hander along the way.
Given that a tiny fraction of upcoming juniors have one handers, how is that so many elite pros have one hand? Not only Federer, but Stan Warinka, Dominic Thiem, Stefanos Tsitsipas, Denis Shapovalov, Grigor Dimitrov, and Richard Gasquet.
In the 2015 French Open, Warinka stunned Federer, winning the backhand versus backhand contest.
Dimitrov, has won the ATP Finals and reached the top three. Tsitsipas has also won the ATP Finals and an ATP Masters and beat Nadal at the Australian.
Thiem, won the US Open. His original coach Gunter Bresnik actually changed him from two hands to one-hand early in his junior career. For an interview in which Bresnik talks about the switch, Click Here.)
Shapovalov is in the top 15. He lost to Djokovic in the Wimbledon semi, but exchanged balls beautifully with the eventual winner off his backhand side.
Want to study the rest of this article?
Click Here
to Subscribe!