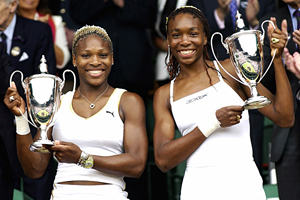 The Williams sisters effect has finally come to fruition.
Now, more than 15 years after Venus reached the US Open final in 1997, there are six young, promising US African-American women players who were all influenced and inspired by the Williams' success.
True, as Oracene Price said last year, to a large degree the Williams sisters are still holding up American tennis. The sisters remain the US's two most recognizable players by a long shot.
But there has never been a generation of young African- Americans like this before, and their emergence can directly be tied to the Williams success from 1997 to the present.
Sloane Stephens is currently ranked #16 in the world. Madison Keys, only 17, is ranked #45. 17-year-old Taylor Townsend is a former junior world No 1 who just reached the Wimbledon Girls' final.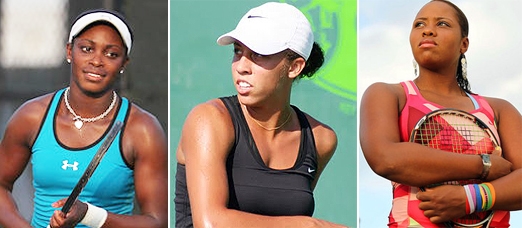 17-year-old Victoria Duval is the defending Girls 18s Nationals champion. 18-year-old Sachia Vickery has cracked the WTA's 250. And 21-year-old Asia Muhammad, won a Challenger earlier this year.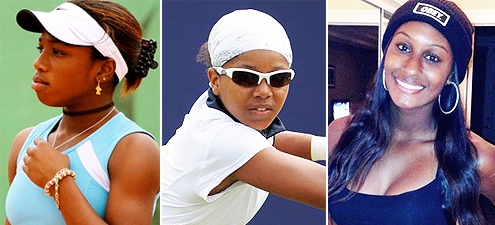 In interviews all recall having watched the sisters growing up. Here is how Vickery introduces herself on her web site: "I fell in love with tennis when I watched Serena Williams playing. I asked my Mom and Grandma when I was 5 years old to buy me a racquet from the dollar store in Miramar, where I grew up and I've been chasing that little yellow ball ever since."
Vickery likely caught a glimpse of Venus beating Serena in the 2001 US Open final and understood just how much of the world was watching the first all-sister Grand Slam singles final.
Before the Williams sisters came to the forefront the only African American woman player who had a large impact on the game was Althea Gibson, who played during the 1950. But at that time few people owned TV sets and the US Championships was rarely broadcast, if at all.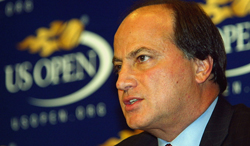 The Williams sisters rise was responsible for the USTA's decision to move the US Open to a Saturday night primetime final in 2001. USTA executive Arlen Kantarian, brought up by working class parents, had a strong desire to bring the sport to the masses.
Serena had won the title in 1999 over Martina Hingis and the next year, Venus won her first US Open title, also over Hingis.
Those were afternoon finals with high ratings, so it didn't take much for Kantarian to convince CBS to make the 2001 final a must see event, instead of sandwiching between two men's semifinals on so-called Super Saturday.
The final was contested in front of a packed house that included African-American celebrities Spike Lee, Diana Ross, Sean Combs., Ed Bradley, the Jackson brothers (minus Michael) and Star Jones, who mentioned at the time that the Williams sisters were "starting to make tennis one of these "you-got-to-be-there sports."
"The Williams have taken tennis three steps beyond," Kantarian said at the time. "Clearly, the worlds of sports and entertainment have collided."
"Tennis used to be seen as an elitist country club event. The basketball, football and baseball players were over here, and the bowlers and golfers and tennis players were over there. Now we can promote tennis as a truly athletic event."
It was true that previously, other African women had done well, including Zina Garrison and Chanda Rubin, both of whom cracked the top 5, as well as Lori McNeil, who had reached the Wimbledon semis. But none had the game or the charisma Venus and Serena brought.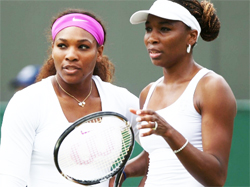 Having the Williams sisters play in prime time meant that they would not only be noticed by kids, but by parents as well. Clearly, African-American women could succeed in the sport, become famous and very wealthy.
That motivated many parents, and as the volume of African American girls playing increased, the potential for world class talent did as well.
There are a number of different reasons why the current US young set admire the Williams sisters: Keys loves Serena's mental toughness and how she always keeps fighting.
Duval watches tapes of Venus because she feels she has a similar body type and should hit shots much the same way; and Stephens had a Serena poster up in her bedroom and liked just about everything having to do with the sisters—until at least Serena snubbed her for an autograph.
"I think I'll put a poster of myself up now," Stephens said.
Some analysts thought that with the success of the Williams that African American players would immediately start filling up the pro ranks, but that was not realistic.
The effect can take 10 years or more to work, as young players progress from age 5 or 6 into their teens. For the same reason, the Li Na effect has not taken effect in China, not to mention a possible influx of Serbians who grew up admiring Novak Djokovic, Jelena Jankovic, and Ana Ivanovic.
But those kids will surely arrive in the pro ranks at some point. And if enough female Afro-Americans continue to play in the US, the chances increase that, instead of just populating the top hundred one or more will break through to the very top like Serena and Venus.