Facing Guillermo Vilas
Scoop Malinowski
---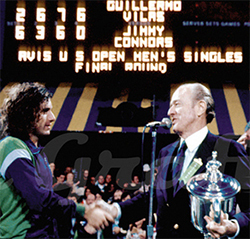 Guillermo Vilas, aka Willy, was the first great South American player of the Open era. He won four Grand Slam titles. In 1977, he won the French Open and then the US Open played on HarTru at Forrest Hills, defeating Jimmy Connors in straight sets.
Then in 1978 and 1979 he won the Australian Open on grass. He also got to the French final 3 other times and to the Australian final the year before he won it.
Even today there is a lingering controversy over why he was never ranked number one in the world (Click Here.) Regardless he was a champion, and a transitional figure as the game moved to heavy backcourt topspin and extreme fitness training.
In a new book, Facing Guillermo Vilas, Scoop Malinowski collects the recollections of people Vilas knew and players he faced, all talking about what Vilas was like and how he played the game. Here are some of the excerpts.
Guillermo Salatino, Argentinian Journalist:
"Vilas practiced 7 hours a day. He said, "If I want to play a good 5 hours, I have to practice 7. He would practice with ten players in day. Then he would run the beach for an hour."
Want to study the rest of this article?
Click Here
to Subscribe!