My Federer Obsession:
Nadal Was Necessary
William Skidelsky
---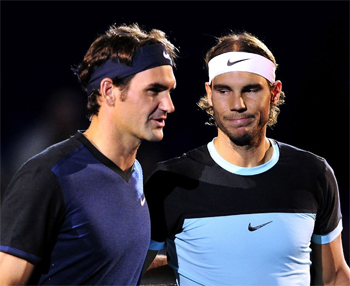 Despite my personal feelings about Nadal (Click Here) there is a sense in which he was necessary. Even I can see that. Without him, men's tennis would have become anodyne, predictable.
Federer would have dominated for much longer than he did, racked up many more Grand Slams, including, probably, at least four French Opens. (How many majors altogether: twenty-four, twenty-five, twenty-six?)
His success would have come to seem unlimited--which is dangerous.He could have become uncherished, resented. And tennis would have been deprived of one of its great rivalries.
The sport has undoubtedly benefitted from the coexistence of Nadal and Federer, figures so different as to be virtually diametrically opposite ideals of what a tennis player should be. But I do wish things could have been more even--that the Spaniard could have won less often, and the Swiss a bit more.
Miami 2004 was when they first met. Federer was twenty-two, Nadal seventeen. Federer wasn't long into his reign of dominance: he'd won Wimbledon the previous July and then the World Master Cup in November and the Australian Open in January, displacing Andy Roddick as World No. 1. His record for the year when they met in March was 23-1.
Want to study the rest of this article?
Click Here
to Subscribe!