The Year is 2005 !

---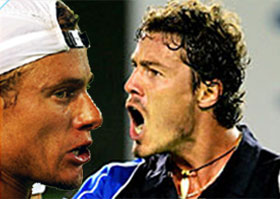 Lleyton and Marat both won nailbiters to reach the Aussie Final

Bring it-awwwn! What a blockbuster year this is shaping up to be for tennis lovers worldwide -- and what an explosive start to the season at the 2005 Australian Open!

When was the last time we had so many nailbiters in the heat of a Slam? Serena/Sharapova: 8-6 in the third. Hewitt/Nalbandian: 9-7 in the fifth. Safin/Federer: 9-7 in the fifth. Safin's coach Peter Lundgren was literally biting his nails in that one, one of the best matches of the new year. Injury time-outs, comebacks, mental and physical warfare, the Australian had it all, although I could have easily done without Olivia Newton-John's shockingly bad rendition of "Magic" before the men's final. Thank God there was some real magic on the court when she finally stopped singing.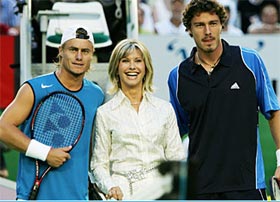 Olivia finally stopped singing.
The cast of characters in Australia gave us an exciting preview of 2005. Certainly there will be many more opportunities to marvel at the genius that is Roger Federer. However, it is looking like this year could be more competitive than last thanks to Marat and Lleyton.
The gracious and versatile Swiss will have a hard time topping his ridiculous 2004 record. But he's got a legitimate game to defend titles on every surface--agility, speed, court sense, power and self belief. He may seem quiet even understated emotionally, but you don't have his results without becoming very, very confident.