---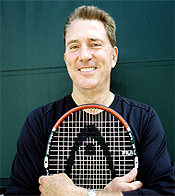 John Yandell
Editor
Most tennis lessons are taught as a series of disconnected "tips". Information can flow to the student almost randomly at times. Even well know coaches and teachers, including some of the great ones with articles here on Tennisplayer, teach more or less situationally. And that's not necessarily bad. In fact it can be good or even great.
But there are a handful of more systematic approaches out there, and I think we are going to see more and more of these developed in the future. These are systems built around key concepts or principles that run through all the strokes, or on principles of learning theory, or on standardized teaching progressions, or all of the above.
So in Teaching Systems we'll present some of these approaches, starting with a legendary and in my opinion under recognized pioneer in coaching, Welby Van Horn. Never heard of him? If you've ever been to Indian Wells (and it's a highly recommended event!) you may have seen his name on the backboards on the teaching courts: "Welby's Wall." He lives in the desert now, where his most famous former player Charlie Pasarell runs one of the biggest tournaments in the world outside the Slams.
Welby's in his 80s, and he's one of the sharpest observers of the game I've ever met. I found that he understood the modern game in great depth. I learned a lot listening to him, and we're privileged to be starting a series of articles with him that will explicate his incredible teaching system for the first time, a system that starts with timeless fundamentals but can progress seamlessly to advanced pro technique.
We're also going to present some of my own work here, the Visual Tennis teaching system. We'll start with the critical role imagery plays in learning tennis, talk about how the approach worked for John McEnroe (which was notable I feel...) and then work our way through the strokes, with an emphasis on what I find to be one the most vital and overlooked elements in teaching and playingthe role of the hitting arm in biomechanics.
And that's just to get started. We'll be bringing complete presentations of other important approaches, some that are very well known, and others that you'll hear about for the first time on Tennisplayer.
The only place you can find it is here on Tennisplayer. Click here to Become a Subscriber!