Measuring Change:
Radar Technology in Teaching
By John Yandell
---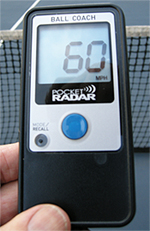 Do alleged technical "improvements" in your strokes actually make a difference in the effectiveness of your shots? Most players have wondered that, and every teaching pro who is honest with himself has as well--myself included.
Now there is a way to answer that question quantitatively. An example: my student Ken So, increased his ball speed on his forehand by 15% in an hour. That's a huge gain at any level.
How do I know this is true? Because I measured it with a new generation radar gun called the Pocket Radar, (Click Here). This is a very cool piece of technology: compact, easy to use, and inexpensive at about $300.
How valuable is it? It changes the way the game should be taught, as valuable and essential as high speed video. It's the missing piece that validates the entire teaching process.
It works like this. Point the Pocket Radar at the line of the shot as the ball comes off the racket, push one button, and the speed of the ball comes up on the digital display.
It's very accurate according to company tests versus the pro systems, is battery powered, and yep, it fits in your pocket. (Or around your neck with the strap that comes with it.)
Obviously, the technology isn't just for working on the forehand. You can apply it to any stroke.
Want to study the rest of this article?
Click Here
to Subscribe!