The Sampras Serve
The Racket Path
---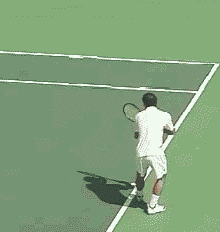 Pete's heavy delivery: Full, relaxed, and very smooth.

Cutting edge research has discovered one reason Pete Sampras possesses the most dominant serve in pro tennis, and possibly, in the history of the game. Compared to other top servers, Sampras hits up to twice as much spin on his first serve. His second serve also combines the highest levels of velocity and spin on the pro tour.

On his first serve, Sampras is averaging 120mph with spin of about 2700rpm. His second serve is averaging 85mph with spin reaching almost 5000rpm. These speed/spin ratios are significantly higher than other top players. The combination of velocity and heavy spin helps explain why Sampras has led the tour in percentage of service points and service games won.
Generating a serve with this combination of speed and spin requires amazing racket head speed.No doubt Sampras's bionic athletic ability is a major factor in his ability to accelerate the racket. But another reason is his incredible technical serving motion. His motion combines perfect basic bio-mechanics with advanced technical elements, some of which are unique in pro tennis. The result - the almost magical ability to hit huge serves at critical moments.
When it comes to genetic ability, few if any players can match Pete. But every player can maximize his own natural ability by using Sampras as a model for developing technical factors.