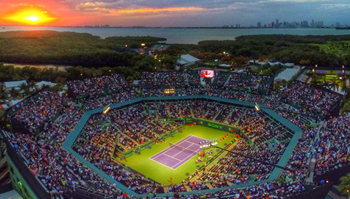 Tradition is good. Change is good. So after over a decade of adventures at Indian Wells, this year I am headed to the Miami Open instead of the desert.
And I suggest that every Tennisplayer subscriber join me! The dates? Monday, March 21 through Sunday, April 2. I'll be there the first week, so email me. (jyandell@tennisplayer.net.) The maindraw starts on Wednesday.
And let's get the full name in: that's the Miami Open presented by Itau Bank. The tournament administrators think everyone should refer to it that way at all times. Which is doubly funny because it's not technically in Miami, it's in Key Biscayne, in Crandon Park, which is public the rest of the year.
So a little bit different environment and atmosphere--not only from increasingly high tech and elitist Indian Wells, but also from the actual city of Miami. Still it's one of the biggest events in the world with both the men and the women--and that means everybody that isn't hurt is supposed to be there.
Just writing that sentence and the idea of watching pro tennis at close range is getting the inspiration going. Last year Djokovic beat Andy Murray in the final. Serena won the women's. But one of the more interesting developments was Martina Hingis and Sania Mirza winning the women's doubles.
But if you are wondering, no Roger. The knee injury right? But if you recall he skipped it last year anyway as part of his reduced schedule. A blow, but then a chance to focus and maybe broaden the focus to some of the young players. It's just impossible not to want to watch him when he is playing.
But here is a question I have. What's Hingis like on the court from close range at this point? In 1997 we filmed her when she won the U.S. Open at age 17. (Click Here to see the music video of that.) Our Open film I thought was pretty revealing emotionally. What's the feeling you get now almost 20 years later? (If you can believe it's been that long.)

I also want to feel the air in Miami and measure it's effect. What does the higher humidity and potentially higher temperature really do to the balls and the exchanges between the players?
I hear that it's easy to move around the outside courts to see all that. To be honest, that has gotten more difficult with the growth and the hype at Indian Wells in the last few years. So I am up for some spontaneous visual osmosis in a completely new environment.
Actually Key Biscayne is a place I have been many times--remember the USTA Player Development headquarters used to be there? And I've actually hit on the center stadium court you're gonna see on TV--it was just that there was nobody in the stands.
And I have many memories--most of them fond--of the playground called South Miami Beach. Because I was an early adopter--and one of my closest friends had an amazing apartment down there for a while. South Beach is about a half hour to two hours away from the tournament--depending on the horrendous Miami traffic--but besides the distance, South Beach is a culture world away as well.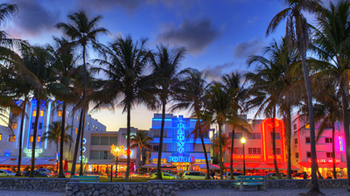 I used to go there to watch the Orange Bowl on the clay courts at Flamingo Park--one of the great public facilities--all har tru. And then head over to Ocean Drive along the beach when the renaissance was just starting over 20 years ago. You could see Gianni Versace walking to the News Cafe in his bathrobe--around noon. And I actually banged my head into Mark Philippoussis's tattoo of Alexander the Great on his upper arm--accidently in a crowded nightclub. Quite a surprise and neither of us were there for tennis.
Now Ocean Drive is overrun. The guys all dress like cage fighters--a few probably actually are--and there are actual fights. One night I saw a huge brawl engulf a bar almost instantaneously-- seemingly random people hitting each other with wine bottles and actual blood, and muscled Miami cops breaking it up.
The girls, meanwhile, all dress like porn stars and a few of them probably are as well. Could be that's what some of the fighting is about. That and every one is really drunk.
One thing for sure, the real estate bargains are gone, but if you missed out on that opportunity to own super hip beach property like I did, you may have lucked out, because I also heard the tidal floods caused by global warming are a regular problem close to the beach.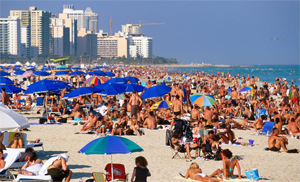 The beach itself I am sure is still amazing--if you go south to first or second street and away from the loud angry roar in the main popular areas. At 5th street across from famous places like the News Cafe it's amazingly loud with the drinking, the shouting and the boom boxes, louder than the surf itself depending on where you sit. But the sand is ultra fine and the water is blue and warm. So I am going to jump in the Atlantic Ocean.
I am also interested to check out the food! I've gotten a couple of restaurant recommendations for Cuban food.
And then there is Joe's Stone Crab. It's been there for decades and way before South Beach was hip. A stone crab has giant ceramic like claws--best crab you will ever have and luckily they crack the ceramic for you--with cream spinach and this potato muffin cake they make on the side. Pricy. Not trendy. No reservations. You either show up really early or wait.
Our contributor Kyle LaCroix is letting me stay at one of the mansions at Boca Oaks where he is the tennis director. So it's gonna be stone crabs for him on the Tennisplayer expense account. But I'll also probably have to go watch a Tomas Berdych match with him.

As I digress, let's go back to the event in Key Biscayne. The reality is that Key Biscayne is its own reality as well. You have to drive over the causeway over Biscayne Bay to get there and not everyone in Key Biscayne--ie, the large numbers of retired residents--loves tennis.
Or they might like to play it. They just resent the invasion of a multiple tens of thousands of people every day for 2 weeks during the "season"-- the season meaning the part of the year before it gets too hot to go outside. Which it does in Miami from about May to October.
There's a reason why the third tier on the stadium is temporary bleachers that the tournament puts up and takes down every year. They care how high you build permanent structures in Key Biscayne.
Not sure why because it's not blocking anyone's views. But I read there is also a big fight now to keep the boat show off the key! Luckily the tennis is grandfathered in.

There is one other significant tennis related event going on, timed to coincide with the tournament. The Tennis Industry Association's owners and managers conference.
Coincidentally, like me, it's also shifting from Indian Wells to Miami. The conference kicks off with a state of the industry forum plus 3 days of presentations and seminars--and I plan to check it out, see if I learn anything, and report back.
So change is, hopefully good. One other good thing is I will have the chance to catch up with Rick Macci and Brian Gordon, famed Tennisplayer writers, elite coaches, and innovators of teaching theory. Brian is trying to marry his 3D capture system with PlaySight (Click Here) in order to correlate biomechanics with shot outcomes.
Play Sight, if you aren't aware, is the technology that is sweeping the industry because it makes it possible and affordable to have the same type of data at any club that you see on television with the shot spot--even the line call review and god knows we all know some players we'd like to use that on. And actually there's a lot more to it, because of its training applications. I plan to write about that in more detail if I ever fully understand the range of what it can so.
For Brian it's another potential holy grail--the complete 3D recreation of tennis--a mathematical virtual reality-and I hope he gets there and decides to explain it all to us.
And who knows maybe I will be able to chase down Amelie Mauresmo and Andy Murray and show them what the high speed video really says about Andy's serve. (Click Here.) Does anyone else finding astounding that he is hitting 80mph second serves? And do you wonder why?
I have some high speed video of Amelie's serve that shows she knows something Andy doesn't. Wonder what they would think of that?
Do you also wonder why no one on TV has a coherent explanation? Is Serena a better athlete than Andy? Is that why she can serve 95mph seconds? I don't think so. Obviously they are both amazing athletes. Check out the link to the article and I think you will understand.
So those are some thoughts going in. Any and all of that of will be good, but usually there are a few surprises whenever you get a chance to observe the tour at close range. Hoping for that! I used to say come say hi in Indian Wells, but now I am hoping to meet a few subscribers in South Florida.